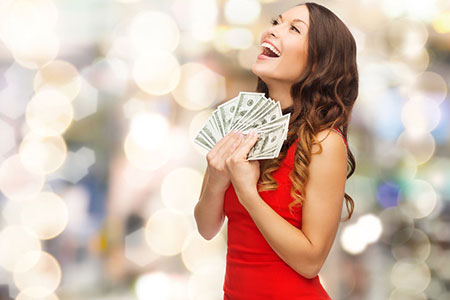 When I was younger, I never thought of money as being spiritual or metaphysical in any way. I never considered the possibility that our financial prosperity, or lack thereof, may be somehow connected to our thoughts, feelings and beliefs about it. Even after studying business, and working as an accountant for many years, I never saw the correlation. It wasn't until I began to explore the spiritual aspect of my life, that I became aware of this link.
I became the sole income provider in my home, after my divorce. At this time, I began to look more deeply into my beliefs and associations with money. If you personally relate to my experience during those difficult days, you will also understand what it feels like to be totally overwhelmed when you are experiencing many new obstacles in your life to financial security and cash flow.
Fortunately, there has always been a logical and practical part of myself that kicks in when I'm faced with big challenges and difficult choices, especially around financial decisions. This instinctive part of me is a natural default from my years as an accountant and mortgage finance consultant.
When my inner accountant comes out, I look at the logical side of things and rationally reason my decisions. Then, on other occasions, the spiritually aware, intuitive part of me knows that if I am overly stressed and worried about money, I block my own energy flow from the Source of all things abundant. I have often also seen that my creative process and artwork doesn't flow freely when I become too worried about finances – I just paint 'mud.'
So, how do we find balance between our logical, human need for material security, and the intuitive, spiritual aspect of our soul that finds it easy to trust the unknown? How do we find that balance?