Harmonizing The Energy Flow Of Money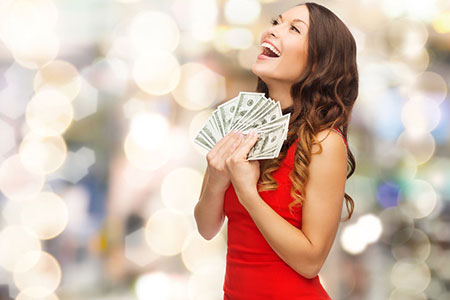 When I was younger, I never thought of money as being spiritual or metaphysical in any way. I never considered the possibility that our financial prosperity, or lack thereof, may be somehow connected to our thoughts, feelings and beliefs about it. Even after studying business, and working as an accountant for many years, I never saw the correlation. It wasn't until I began to explore the spiritual aspect of my life, that I became aware of this link.
I became the sole income provider in my home, after my divorce. At this time, I began to look more deeply into my beliefs and associations with money. If you personally relate to my experience during those difficult days, you will also understand what it feels like to be totally overwhelmed when you are experiencing many new obstacles in your life to financial security and cash flow.
Fortunately, there has always been a logical and practical part of myself that kicks in when I'm faced with big challenges and difficult choices, especially around financial decisions. This instinctive part of me is a natural default from my years as an accountant and mortgage finance consultant.
When my inner accountant comes out, I look at the logical side of things and rationally reason my decisions. Then, on other occasions, the spiritually aware, intuitive part of me knows that if I am overly stressed and worried about money, I block my own energy flow from the Source of all things abundant. I have often also seen that my creative process and artwork doesn't flow freely when I become too worried about finances – I just paint 'mud.'
So, how do we find balance between our logical, human need for material security, and the intuitive, spiritual aspect of our soul that finds it easy to trust the unknown? How do we find that balance?
The reason why we have never found measure of wealth. We never sought it ~ George S. Clason
For myself, I have a couple of wonderful inspirational books on prosperity and abundance, that I keep at hand for those days when I need to draw courage and inspiration. My favorite book in this genre is Richest Man in Babylon, by George S. Clason. This book, first published in 1926, gave me a clear understanding of the energetic nature of money, and why it loved to be looked after. It explains why things like budgets and accounts actually matter.
From a spiritual perspective, money and budgets are the masculine aspect or energy of life. Budgets become like a map, and give direction to the abundance energy current, or flow of money. They provide a structure, which energetically is like the masculine aspect of our own nature. It also makes sense to reflect on money as a token of an energy exchange. It is merely a value attached to a benefit, or service offered.
Money flows to us, like the gentle flow of a river, the budgets allow the direction of that flow. What is most important, is the feeling of direction budgets and financial plans can give us. I discovered that it creates emotional freedom, which in turn allows us to also feel intuitively and spiritually free.
When our plans and budgets are in place, we feel liberated, more in control, and more connected with the intuitive, eternal part of ourselves. The financial structure then becomes the foundation for the intuitive, feminine, ethereal aspects of life, that needs freedom and trust to flow freely.
The balance of energies works to create harmony, like the Yin and Yang. In accounting there is always a corresponding cause and effect for each transaction. All of life is governed by some form of cause and effect.
Wealth, like a tree, grows from a tiny seed. The first copper you save is the seed from which your tree of wealth shall grow. The sooner you plant that seed the sooner shall the tree grow ~ George S. Clason
To harmonize the flow of money in your life, view money as a living, flowing stream of energy, that constantly flows to you and circulates in your life. Take some time to take stock, understanding how it flows to you through budgets and a system for diverting, or allocating money.
Keep things simple, so that you enjoy the process. If figures and finance are not something you enjoy doing, or you find working with numbers frustrating. I encourage you to reach out to someone who can support you in this area.
I hope I have inspired you to view money differently, and to consider the spiritual, metaphysical nature of money. As our world currently operates, money is one of the most prominent ways in which we exchange and share energy with each other every day. May your sharing be abundant, prosperous and blessed.

About The Author: Cheanne

Cheanne's Divine gifts came to her in her early 20's, when this young Australian accountant felt suddenly compelled to take a creative art class. On the blank canvas, she saw a face that moved her greatly, and she painted it. The brush took on a life of its own, as she painted the divine presence of Buddha. We are not alone, she suddenly knew, and that feeling has stayed with her ever since! Messages and healing have come through her art work and from her Intuitive sessions that connect clients with spiritual guidance to navigate through life's changes and challenges. She also helps clients tap into and experience their own unique gifts. Since 2013, Cheanne's helped business owners achieve their creative visions, she's provided clients with portraits of their Angels and Guides, and she's channeled messages at New Age Festivals, Expos, from her local practice room, home studio, via phone and internet, and through the dozens of group workshops and intimate retreats she's provided. Her unconditional, loving support has touched thousands, and acts as a bridge to connect clients with a powerful, Divine Guidance. You can find this unique and wonderfully talented Intuitive at PsychicAccess.com.


One Response to Harmonizing The Energy Flow Of Money