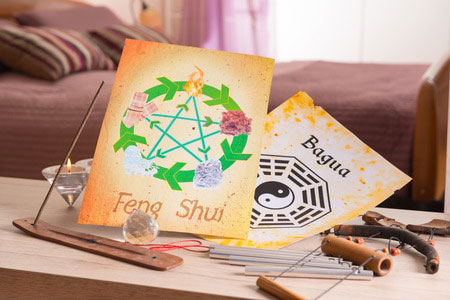 Social-distancing and being quarantined at during the Covid-19 pandemic, is the ideal time to embark on a major de-clutter and clean-up. By doing a thorough cleaning and clutter clearing clutter now, we can open up the flow for positive energy to flow through our homes, offices and lives once the quarantine is lifted.
To make the most of such a spring clean, consider applying some feng shui principles to rearrange your home. Many people's perception of feng shui is that it is just a form of interior design, but it is actually an ancient spiritual practice and philosophy. It will literally open energy channels for abundance and prosperity,  as well as health and wellness to flow into your life.
Feng shui is a system of laws that govern spatial arrangement and orientation in relation to the flow of energy (chi). The aim is to create a harmonious environment that enhance the balance of yin and yang. It is about living in spiritual harmony with our environment.
When we apply feng shui to our home and lifestyle, we do so in order to achieve balance in both our working and living space, and maximize our potential for success in our personal lives and in business.
Feng shui literally translated means 'wind water.' Wind scatters energy and water holds energy. In applying its principles, we can clear out negative energy and generate more positive energy.