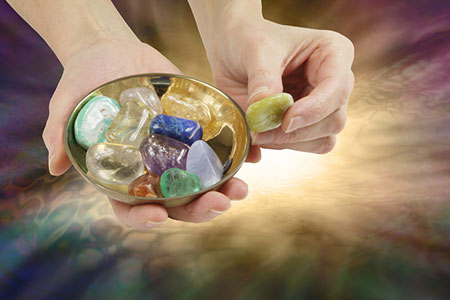 Crystals used in spiritual practice can help us manifest many good things in our life.  If you're specifically looking to increase your financial security, wealth and prosperity, or maybe find that perfect job or start that successful business (or even win that lottery ticket), try adding some new prosperity crystals into your daily spiritual practice.
There are many ways you can bring these crystals into your life for financial success. Keeping a few of your favorites in a purse or wallet, or on your desk at work, is the best way to have them close at hand. Traditionally, the southwest corner of a space is associated with prosperity and wealth, so try a bowl filled with your favorite crystals and place it there. Some practitioners prefer to place a collection of these crystals in a prosperity grid. Maybe a piece of jewelry made with some of these crystals?
It's also important to consider all kinds of wealth and prosperity (good luck, business sense, spirituality, knowledge) and not just material goods when using your crystals. Each of the crystals and stones below has unique abundance properties, so choose the ones most unique and meaningful to your situation.
The main thing to remember in your crystal energy work is your intention. Prosperity is something all of us aspire to, and it's certainly great to have lots of extra spending money, but we also must remember different kinds of 'wealth' exist, especially the wealth of the heart. We must also seek to bless others, so always remember those in need and less fortunate. Wealth and prosperity without love and sharing is meaningless.