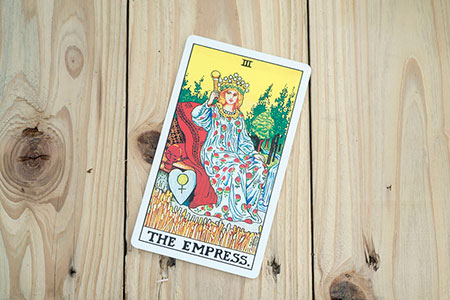 The Tarot is so much more than just a method of fortunetelling. Tarot can be used as a tool for meditation just as much as it is an aid for divination.
For example, you can meditate on one of the cards in the Major Arcana, to connect with that specific card's archetypal energy. Connecting with the card's energy can not only help you find the answers you need, but more profoundly it can also invite that energy into our life.
Every archetype can awaken within us certain a type of personal power. The Magician can inspire us to become more quick on our feet, as he is mercurial in nature. The High Priestess connects us more deeply with our intuition and higher self. The Tower can bring an immediate closure to a negative situation we cannot stand anymore, and so on.
Let's focus on The Empress card with a more detailed analysis, to demonstrate how we can utilize her in meditation.
Symbolism Of The Empress
The Empress is the number 3 card in the Major Arcana of the Tarot. She is the archetypal queen and symbolizes all the riches of femininity. She is related to the planet Venus and the zodiac sign of Taurus, representing affectivity in all its fullness.
As an earthly partner of the Emperor, her archetype represents the earthly plane achievements and pleasures of the physical body, including motherhood. There is also a connection between the Divine Feminine or Divine Mother archetype, represented by this card, and the Earth as Gaia, our nurturing mother.