Archangel Gabriel, The Messenger of Heaven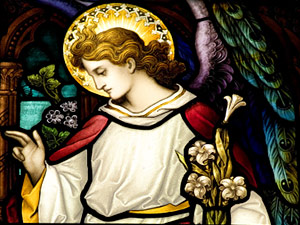 Like his fellow archangel Michael, Gabriel is one of only a handful of angels mentioned by name in multiple faith traditions. His name means "Strength of God," and he is powerfully associated with dreams, visions, and messages.
In the Christian tradition Gabriel was the angel who delivered the news of Jesus' birth to Mary, and in the Muslim faith he delivered the words of the Koran to Muhammad.
Traditional depictions of Gabriel show a tall, silver-haired figure in flowing white, or grey robes. Some have said he is actually a female figure, or that angels have no gender. Naturally Gabriel then is associated with the Moon, the astrological sign of Cancer, and feminine energy.
Perhaps Gabriel's most important role is that of messenger. When invoking this archangel, consider what messages you need to receive. Are you listening properly when awake? Is there a theme in your dreams that means more than may be expected? This is when calling upon the archangel Gabriel can be very meaningful.
The angel said to him, "I am Gabriel. I stand in the presence of God, and I have been sent to speak to you and to tell you this good news ~ Luke 1:19
Using stones with clear connections to water or the Moon, such as aquamarine, clear quartz, or opal, is best. Gabriel's day of the week is Monday and his feast day is, like Michael's, on September 29th.
If using candles, white or blue are the favored colors. Gabriel is invoked in questions of psychic ability, women's concerns (or simply feminine energies,) dream interpretations, and mysticism.
Keep in mind that Gabriel is also the traditional keeper of the Merkava, or Tree of Life, when you perform your work. As guardian of knowledge, he can give you the needed insights to uncover greater truths.
Gabriel is also the yin to the yang of archangel Michael, the warrior. Use his presence when in need of compassion or intuition. When working with any angel energy, keep your mind and your heart open and always remember to show gratitude for his intercession in your life.

About The Author: Mystic Shelley

Mystic Shelley is a five-star psychic, Reiki healer, clairvoyant and empathic reader. She offers her clients honest answers about past, present and future events with the help of her trusted guides. She reads in the area of love, relationships, career, money and all matters of life. Mystic Shelley was born with talents that would later mark her as a gifted psychic, but she chose not to embrace them early on. In her 30's, a not-so-chance meeting with a celebrated psychic set her on a course that awakened her gifts. Born with the gifts of clairvoyance and empathy, her psychic mentor helped her to expand those abilities, taking her talents to the next level. With experience came proficiency and today she has a growing list of devoted clients who sing her praises. In addition, she's also actively assisted other psychics to open up to their abilities. If you are looking for direct and honest answers get a reading with Mystic Shelley now at PsychicAccess.com


This site uses Akismet to reduce spam. Learn how your comment data is processed.