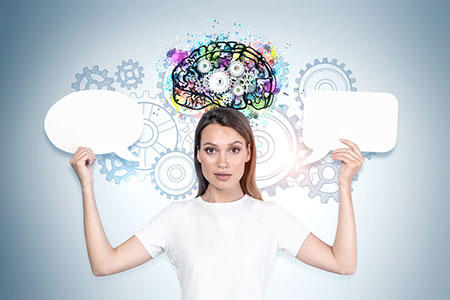 Most people indulge more in negative self-talk, than positive. But self-talk is not supposed to be negative and overly critical. We are supposed to use it to encourage, empower and motivate ourselves to achieve success and follow our dreams.
Our brain has the conscious mind, the subconscious mind, and what is known in hypnosis as the critical factor of mind. This critical factor is that part of our consciousness that checks and filters every through and idea that enters our mind. It is like the gatekeeper or the guardian between the conscious mind and the subconscious. That is how hypnosis works – it is a way to bypass the critical factor so that we can access the subconscious and reprogram it with new information and insights for healing and self-empowerment.
The role of the critical factor is to protect our mind, but this is not always a good thing. Because of the job the critical mind is tasked to do, it tends to be critical of everything. It is unfortunately also that part of our brain that says we are not worthy or deserving, that we cannot do things, or achieve things.
I cannot get the job I really want.
I'm not worthy of a happy, healthy relationship.
I am not smart and pretty enough.
People just don't like me.
Why do bad things always happen to me?
The one big problem with the critical factor is that it does not always see or hear things the way they really are. It can convince of things that are not true at all. For example, it may you that others are trying to get you fired from a job, when in fact the boss is trying to help you keep your job.