Find Your Rainbow In Troubled Times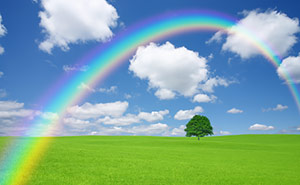 Oh boy, this wind and rain is not stopping. My heart feels so heavy. I need to go out and I need the sun to warm this cold broken heart. This seems a never ending day, a never ending pain.
But  after all this, I finally go outside to see, to look and there we go: a beautiful rainbow! I just felt like dancing under a rainbow, and here you are: the Majesty of the spectrum of colors and the huge arch delighting the big valley, reaching over the mountain and falling into the lake.
My eyes follow the unique mix of many shades, those colors sprayed all around, the order of the perfect rainbow. And then I look for the pot there at the end where the gold is supposed to be. It is nowhere to be seen, but it does not matter, for here here is the most beautiful thing the Creator can show us mere mortals.
I have set my rainbow in the clouds, and it will be the sign of the covenant between me and the earth ~ Genesis 9:13
In that perfect moment I forget the sadness and despair I felt, before I walked outside. Gone is the heaviness in my heart. I know now that nothing is lost forever. The rainbow brings a new moment, a new day, a new beginning. It is God's promise to us.
Yes, we have pain and sadness sometimes, and we think it is never going to pass. But then you look at the colors of a perfect rainbow after a destructive storm of heavy rains and gasping winds, and you know all is well. The storm may seem never-ending, but we always find a rainbow of promise at the end.
The rainbow is a sign that we must have faith in tomorrow; we must set our hearts in hope and trust. No pain is everlasting, our rainbow will come again. The light in our life will resurface and we will be renewed, stronger than ever, better than ever. When life gets you down, find your rainbow. There is always one should you look carefully.

About The Author: Mariella

Mariella is a New York resident, born in Italy, who began accurately reading at the age of eleven with just an ordinary deck of playing cards. She's since designed her own deck of Tarot cards as well as a unique time board that provides clients with startlingly accurate time frames for her predictions. For a reading with this warm, funny, and highly detailed Clairvoyant and Empath, you can find Mariella at PsychicAccess.com.