Published
February 19, 2023
|
By
Shani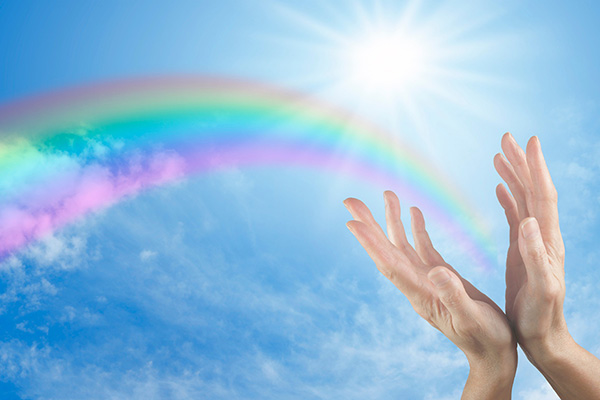 On a recent countryside walk the most beautiful, arc-shaped rainbow appeared across the valley. There was something extraordinary about this particular rainbow, because it brought back fond memories of beloved pets who recently crossed over Rainbow Bridge, as well as departed loved ones whom I have lost over the years.
When I got back home, I felt prompted to honor the memory of all the animals who have been a part of my life over the years. They have mainly been rescues, except for a few, as well as animals I had formed a bond with through their owners, and also dogs I have sponsored in different parts of the world.
The colors of the rainbow convey profound spirit messages from the souls of pets and people who have crossed over. It is of mystical significance for me. A beautiful rainbow after many hours, or even days of rain truly is a joy to behold. It inspires hope, optimism, and child-like happiness, particularly if one has been going through a doubtful, or even despairing time in your life.
In modern yogic, energy healing, and other new age spiritual practices the colors of the rainbow spectrum have become associated with the colors of the seven primary chakras. This concept was first introduced in the 1970's by spiritual author Christopher Hills in his groundbreaking book Nuclear Evolution: Discovery of the Rainbow Body.
I recall one of my many mentors saying during an Aura-Soma® course, "You are all rainbows." Aura-Soma is a divination and color therapy system based on the color spectrum. It was devised by British pharmacist and chiropodist Vicky Wall to harness the vibrational energies of nature for improved well-being and vitality.
Posted in

Alternative Medicine, Aura, Chakras, Energy, Energy Work, Healing, Life Design, Metaphysics, Self-Help
|
Tagged

animals, aura, books, chakra healing, chakras, color therapy, colors, conscious living, divination tools, dogs, emotional healing, energy awareness, energy frequency, energy healing, energy medicine, energy signature, energy vibration, energy work, enlightenment, healing, health, holistic health, light body, memories, mental health, new age, pets, rainbow bridge, resonance, self-healing, signs, soul healing, spirit messages, spirit signs, spiritual healing, spiritual lifestyle, spiritual messages, spiritual teachings, spiritual traditions, symbolism, trauma healing, vibrational match, well-being, wellness, yoga
|
Leave a comment