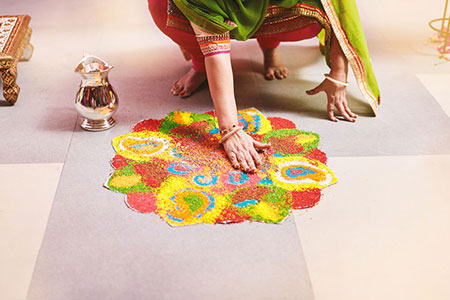 Mandala is an ancient word simply meaning 'circle' in Sanskrit. Mandalas are patterns which range from simple to complex, and are said to represent the Universe and its energies. Varying designs have appeared for centuries in cultures around the world. These beautiful and intriguing works of art can be used in any meditative practice.
To use a mandala in your spiritual practice, begin by choosing one which has special meaning for you, or has a design you personally find harmonious. Many can be found online, in design books, or in color-it-yourself art books. The colors and patterns can also hold intrinsic meanings.
When you have found a mandala you like, use it as a focal point for meditation. State your intent beforehand. While studying the design of your mandala, let your mind stray into the subconscious.
This work is quite similar to candle or crystal work, in that the imagery directs our thoughts rather than the other way around. If you've ever found yourself getting lost in the patterns of a tile floor, or the wallpaper in a favorite room, then you're already well-equipped for mandala work!