Spirit Guides Us In Our Dreams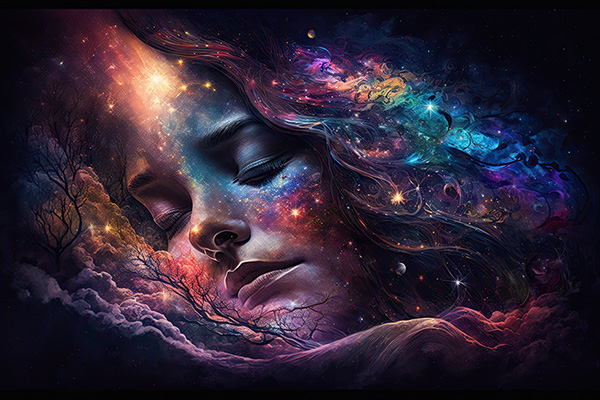 Spirit guides us in our dreams. Whatever your usual spiritual practice may be, it is never truly complete without the inclusion of your dreams. I often advise my clients to pay more attention to their dreams, as they can contain messages and guidance from our angels, guides and departed loved.
The most important dreams are usually the ones that are most vivid, unusual, and at times also upsetting. When we get a dream that really throws us, it is wise to contemplate them carefully to interpret its meaning.
The best thing to do is keep a record of all your dreams. Write it down in a dream journal you keep next to your bed, or download a dream app to record your notes.
It is important to try and remember as much of your dreams the moment you wake up, before you get up, to ensure your dream is still fresh in your mind. It is further recommended that you try to keep your body in the same position when you wake up to boost your dream memory.
Our dream memories fade quickly after waking and typically disappear from our conscious awareness within a minute or two.
Our dreams often do not make much sense at first as dreaming occurs in the subconscious mind and is therefore usually somewhat abstract and even bizarre. Keeping records enables you to refer back to previous dreams, which often begins to reveal the meaning of your personal dream symbols and recurring themes.
Therefore, the more consistent you are with your dream journaling, the better your understanding and interpretation of your own dreams will become over time.
Beginning and committing to a dream interpretation practice is one of the best gifts anyone can give themselves. This is truly the greatest guidance anyone could ask for ~ Teresa Decicco
I also find it very helpful to meditate on my dreams later, during my daily spiritual practice. I review my dream notes from that morning and then meditate on its potential meaning. I have uncovered some amazing insights this way. Another method is to do a Tarot, oracle card, or pendulum reading to explore a dream's hidden message.
In my experience dream messages often contain one of the following:
1. Answer to a problem you are currently facing.
2. Solution to a current life challenge.
3. Forewarning about a future event.
4. Revelation about someone or a situation you may not be aware of.
5. Comforting message of love, support or protection from a deceased loved one.
6. Guidance regarding your life purpose or spiritual path.
7. Exposure of a trauma or inner child wound that needs healing attention.
8. Direction for the next step in your personal or professional life.
9. Creative inspiration for projects, such as painting, writing, building, or inventing.
Of course, it can do no harm to also look up some of the symbolism in your dreams in a dream dictionary, but bear in mind that these sources could contain generalized or generic information that may not always apply to your unique dream experiences.

About The Author: Venus

Venus lives in Arizona and has helped clients with her arsenal of psychic gifts for over twenty years. She was blessed with Clairvoyance, Clairaudience, Clairsentience and Empathic gifts, and she is also a certified Life Coach and a Reiki practitioner. Departed loved ones will often enter a reading, either invited or they simply show up to pass along their messages. Messages also flow in from her direct communication to Spirit and Angels, providing the client with the answers they need to get them moving forward toward happiness, rewards, and success in their lives. In addition to being a psychic, life coach, and reiki practitioner, over the last ten years, she has also been a teacher and has led seminars to help others embrace their higher knowledge. If you'd like a compassionate psychic who can tune-in immediately and channel without tools, you'll want a reading with Venus at: PsychicAccess.com.


This site uses Akismet to reduce spam. Learn how your comment data is processed.