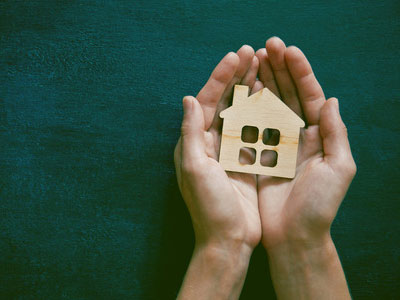 About 15 years ago, I was house hunting for my second home. I found a place in a remote community in the woods. It was my dream home. It was like a fairy house, complete with a creek running through the yard.
It had this amazing rock wall surrounding it that looked like a castle wall. It was very private, with a secluded community of other fairy, woodsy magical house lovers. I just knew it was my house! It felt like destiny. But was it?
Most psychics will tell you that we cannot really read for ourselves and, when we do try, it usually is not very successful. We often get things very wrong for ourselves. Read the rest of this entry »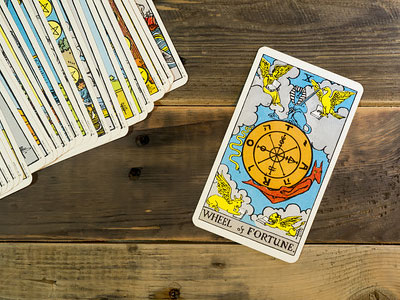 When reading Tarot, it is always important to consider each card in the context of the spread. Each card has differing meanings, based on the context of the whole.
For example, the Three of Swords represents heartache, sadness, loss, grief. However, let's say it comes up along with the Chariot, which represents moving forward with success. Together, the context of these two cards might shift to something like moving beyond sadness. However, this meaning might shift even further, based on the rest of the cards in the spread.
Reading single cards only, would be like trying to convey a message with just one word. Instead one should think of a Tarot spread as representing a full sentence, while each card represents a word in that sentence. Read the rest of this entry »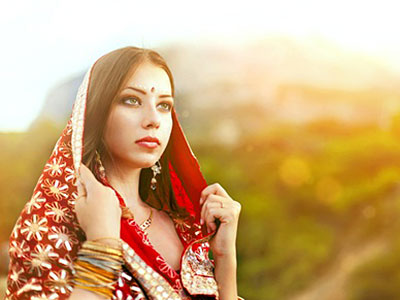 When people call for a psychic reading, they sometimes forget that they have the power to change their lives. They tend to believe that everything has been established, or things are fated. But that's not necessarily true.
I don't believe that everything is fated. If our lives are fated, then one doesn't actually need to do anything other than sit and wait for things to happen. Many things in our lives simply cannot occur without our consent.
For example, you cannot get drunk without ingesting alcohol. It is never 'fate' that someone becomes drunk and hung over. Similarly, we can reason that many things occur in conjunction with our personal effort. Our fate is in our power. I believe that we have a lot to do with creating what is and the circumstances in our lives. Read the rest of this entry »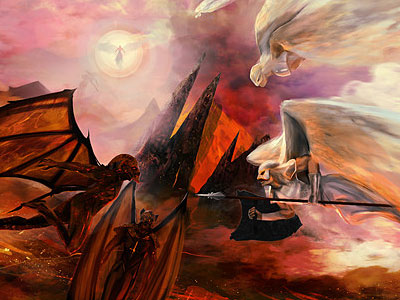 Angels are holy spiritual beings who love and serve God. They help people and do good work. These angels, who people celebrate, are faithful angels who go out into the world for our highest good. But this is not always the case.
There's another type of angel out there. The type of angel that we don't talk. The fallen angel.
Fallen angels are also known as demons. They work their evil, creating chaos in the world and constantly tempting us the do evil deeds.
They are angels that have fallen from grace. The angels that have been cast from Heaven. It is believed that God created all angels to be holy. They are here to help and guide us. It's also the belief that one of the most beautiful angels, called Lucifer, chose to go against God's wishes. He wanted power and he rebelled against God. He was cast from Heaven, down to the Earth. Read the rest of this entry »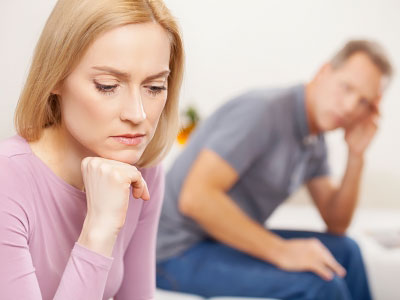 Accepting divorce as a reality is an important step in the healing process. One must mourn the loss of what could have been, but you don't want to get stuck in the past, because it won't change anything.
Acceptance is the most difficult step that one must take in releasing the past and begin a new chapter of life. Acceptance involves things like blame, resentment, and regret. We have the option to let go of negative emotions, which will give us the freedom to move forward.
So, now you are divorced, do you choose to stay bitter and hurt? No, you work through it and regain your strength, so that you can find yourself again. I know this is easier said than done, but nothing in this life is accomplished without some effort. You have one life to live, and you get to decide how you want to live it. Read the rest of this entry »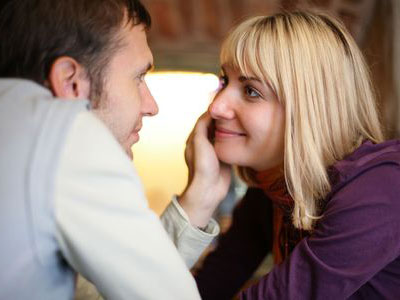 Have you ever met someone who you just felt were from the same soul group as yourself? Sometimes we look into the eyes of a stranger and feel a very strong connection. It could be a very awkward feeling, especially when you are not expecting it.
Yes, we do connect with those who are kindred spirits. You feel that you know that person, and most likely you do. You know that person because your memory of them is recorded in your cell memory.
We have had many past lives and sometimes we find we are incarnated in the same soul group as that person. We sometimes connect with them briefly, for only a few minutes. Sometimes we see them every day at work, at school. Some are our teacher in some way shape or form. Read the rest of this entry »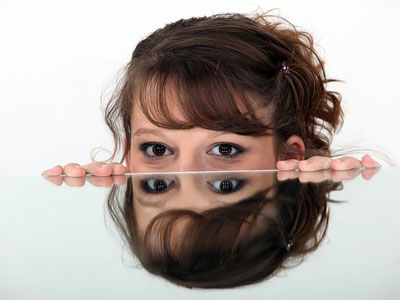 As a professional psychic, I often come across clients who are stuck in a relationship or career that doesn't seem to bring them fulfillment or happiness. Overall it seems our society has been conditioned to settle for less than we are worth, and the majority of us have been raised to escape from our problems, instead of acknowledging them head on.
If you are at a crossroads, or questioning why you find yourself in a toxic situation, then it may be time to get brutally honest about who you are and what you really want. Refuse to make any further excuses and take responsibility for what you can change. Denial or lack of self-love will often times hold us back, but the truth will always set one free into greener pastures. Ask yourself the vital questions. Read the rest of this entry »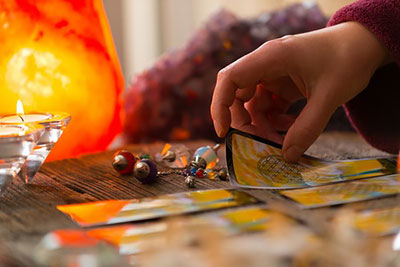 As a Tarot reader through many seasons, I have seen for myself where interpretation, listening to instinct and understanding the true meaning behind the cards makes for a better and more rounded reading. But perhaps the Tarot in and of itself will want to play tricks on you. This too I have seen many times!
People tend to misunderstand the Tarot, its meaning, and more importantly, its true purpose. It was never intended as a fortune telling tool per se. It can only be through careful study and a willingness to open one's mind and heart, that reading the Tarot can be truly successfully mastered. Yes, even to the point of predicting time frames – something clients love, of course, but which can be very tricky to predict. Reading the cards correctly and imparting correct advise is crucial when it comes to time prediction. Read the rest of this entry »