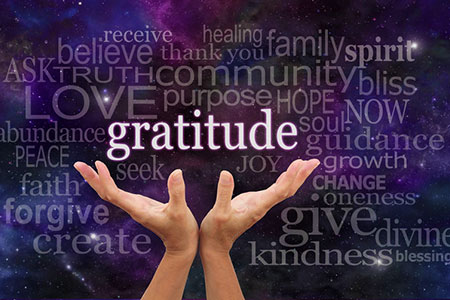 It is just as important to express gratitude and appreciation when we face the difficult times in our life, as it is when things are going well. In fact, it is even more important to express it during the hard times.
When our lives are on a downswing, the last thing on most people's hearts or minds is to be thankful, or in a state of appreciation and joy. When we are struggling, our soul tends to be more aware of the negative energy of what is going on around us. This can ultimately attract the manifestation of even more negative energy, stressful situations and unpleasant events. In the end, even more bad days will come our way.
However, when we decide to stand strong and stop the downward spiral of our energy, and to be grateful for all of life's lessons, whether good or bad, our energy begin to shift for the better.
When I pay my bills (a task that most of us really do not enjoy), I always write thank you under the last entry in my bank journal. When I think of the reason for doing this, especially when it means spending money on things that are not tangible and sitting in my hand, the explanation comes very easily.  I am saying thank you for actually having the money to pay these bills – the hydro bill so I can have lights, the gas bill so I can have heat in the winter, the credit card bill for those urgent things I had to purchase, and the medical bill that allowed me to purchase the medication I need to keep my health in check, and so on. Even though these things may not be material things that I can feel or see every day, it means something at some point to make my life better.