The Lessons Of Spiritual Achluophobia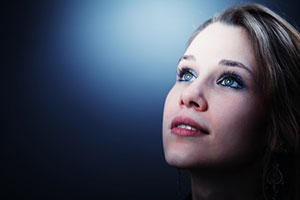 Every day I do a trivia quiz to test my mind and keep my instincts strong. This morning the question was what is achluophobia. It is the fear of darkness, which is a reasonable fear, as most of us want to be able to see what is going on around us. It made me realize that we feel the same need to "see the light" on a spiritual level.
The darkness is always there lurking in the background trying to creep into our hearts and our minds, and to take over. There is a spiritual warfare every day that may tell us we are on the wrong path. If we are heading towards increasing darkness, then we are heading in the wrong direction. In  times like these we are suddenly hit with so many problems and setbacks that we wonder what God is doing to help us.
It's not what you have on the outside that glitters in light, it's what you have on the inside that shines in the dark ~ Anthony Liccione
Have we been abandoned? Is there a real God to help us? But soon we realize that we have to fight, we have to discipline ourselves, control our minds to push these dark thoughts away.
The more the dark comes in, as we examine little details such as our finances, past mistakes, and various wrongs, we begin to believe that nothing will help us achieve our dreams, even if it is for the greater good of everyone. The dark hits us! It comes on suddenly to attack the very point, the very dream that we hope for. Our hopes and desires become a point of attack.
Dark always tries to overcome the Light, but we must keep in our thoughts the faith that the Light always returns in the morning. During the fight, the battle, we will learn lessons: spiritual, or reality lessons. These lessons will gear us up for the next battle.  A little "spiritual achluophobia" is a good thing, as what we fear, we will fight. Never quit bringing the Light into the day. Get rid of the darkness.
Life is hard. Love is fragile. The path is never easy for any of us. We all often wonder if there is something we did in this lifetime, or in a previous one, to forever create us pain. If you believe in this school of thought, you feel that in a past lifetime you must have been cursed, or a hex was cast.
Our deepest fear is not that we are inadequate. Our deepest fear is that we are powerful beyond measure. It is our light, not our darkness that most frightens us ~ Marianne Williamson
Amazing how every person, at one time or another, has this thought, has this idea, that the very God who protects us, who provides for us, actually takes the time to hate us, and to destroy us. But we know it is not true. The universe was built specifically for us. Every law of nature, every tree, stone, every living thing has a reason and a purpose to exist in the mechanics of the universe.
We are often given a gift of love. This fragile gift is much like a precious, expensive glass vase, or sculpture. We can't toss love around, we must carry it gently, carefully in our hands. Never take this gift for granted, it must be cherished.
Our task is to do something different. When we are different, everyone around us acts differently. When we wake, honoring our spiritual walk with meditation, with prayer, with blessings of honor to the universe, we glow with peace. We are filled with love, which causes us to smile. The smiles are contagious as we do things differently, and people respond with a smile.
Sometimes there is no reason why the path is longer, but I guarantee there is a plan, there are lessons for all to learn.  Most often the reason is to learn to never give up, to keep smiling.

About The Author: Mariella

Mariella is a New York resident, born in Italy, who began accurately reading at the age of eleven with just an ordinary deck of playing cards. She's since designed her own deck of Tarot cards as well as a unique time board that provides clients with startlingly accurate time frames for her predictions. For a reading with this warm, funny, and highly detailed Clairvoyant and Empath, you can find Mariella at PsychicAccess.com.


One Response to The Lessons Of Spiritual Achluophobia