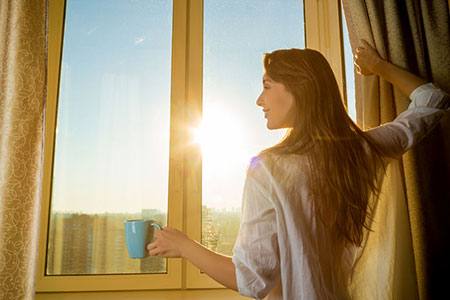 Mornings are special. The energy of the morning is different than at any other time. When the sunlight is still fresh and gentle, the world is calm and quiet, there is a magic to this time.
The first few moments of our day help to set the tone for our experiences throughout. Becoming aware and attuned to this fresh universal energy can be as simple as creating a small morning routine.
Now, I realize not everyone loves the morning as much as I do. If this is the case for you, the idea of creating a morning routine may not sound appealing at all. Starting with small, quick steps can make all the difference here.
Your morning routine is meant to set you up for success. It is about doing things you like in the morning, that get you in the right frame of mind and heart.
Bringing a bit of mindfulness into your morning can set you up energetically to respond more effectively to your experiences throughout the day.
Below is a list of things you can do in the morning to create a personalized routine that works for you. You certainly don't have to do all them! Just pick one or two to get started and build from there.
While consistency is important, if something is not working for you, change it up and try something new. This routine should be fulfilling and meaningful to you.
Affirmations – Start saying 'I AM' affirmations. As you are getting ready in front of the mirror, look yourself in the eye and speak aloud three 'I AM' affirmations, for example: I am learning to let go of fear and negativity. I am worthy of abundance and fulfilment. I am grateful for all the good things in my life.
Gratitude – Place a note somewhere you are going to see it in the morning that reads: 'What am I grateful for today?' Every morning you see it list three things aloud.