The Healing Power Of The Ocean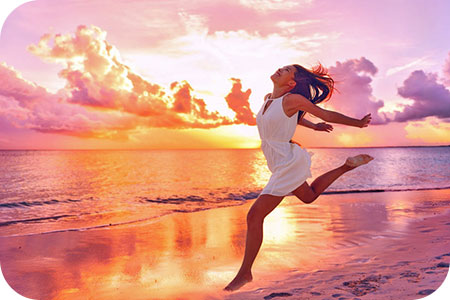 In the same way that material things need to be cleansed from time to time, after it has been frequently used or exposed to unwanted environmental influences that can potentially harm it, the human body and the soul also need to be cleansed. It must be done to ensure that the functionality of the mind, body and soul is not affected in adverse ways on the long run.
Ocean healing is one of the best ways to restore our energy balance, both physically and spiritually. It is a very effective and efficient way to cleanse the body, recharge the mind and revitalize the soul.
The healing power of the ocean has been known to us since the dawn of time. Connecting with the ocean heightens our spiritual awareness and inspires a positive change in our life, as the vibrational frequencies of the body, mind, and soul reaches a new high when we are near the water. The currents in the ocean act as a restorative, relaxing, and soothing energy.
There are many creative ways in which you can align yourself with the energy of the ocean. To benefit from this healing power, it is best to spend as much time on or near the ocean as possible. Walk on the beach, go sailing or fishing, or swim in the ocean itself. All these activities bring you closer to the ocean's healing ability. You can go with someone, or you could go alone, either way, without your conscious mind even realizing it, your body, mind, and soul will find healing by you spending time by the water.
I go to the ocean to calm down, to reconnect with the creator, to just be happy ~ Nnedi Okorafor
You can even recreate the energy of the ocean at home! All you need to do is close your eyes, breathe deeply, visualize yourself being near the ocean, and then set your intention. Shift your awareness to the healing power of the waves and what healing outcome you wish to achieve. You can further enhance this visualization by taking a spiritual bath, in which you can dissolve some sea salt.
So, when you feel yourself becoming stressed out, agitated over petty things, or distracted very easily, it may be time for an 'ocean cleanse.' Ocean healing is an easy method to heal your mental and physical body. The ocean knows of its capabilities and abilities, and once you are in its presence, it will start working to neutralize negative energy and recharge you with positive, healing energy.

About The Author: Venus

Venus lives in Arizona and has helped clients with her arsenal of psychic gifts for over twenty years. She was blessed with Clairvoyance, Clairaudience, Clairsentience and Empathic gifts, and she is also a certified Life Coach and a Reiki practitioner. Departed loved ones will often enter a reading, either invited or they simply show up to pass along their messages. Messages also flow in from her direct communication to Spirit and Angels, providing the client with the answers they need to get them moving forward toward happiness, rewards, and success in their lives. In addition to being a psychic, life coach, and reiki practitioner, over the last ten years, she has also been a teacher and has led seminars to help others embrace their higher knowledge. If you'd like a compassionate psychic who can tune-in immediately and channel without tools, you'll want a reading with Venus at: PsychicAccess.com.