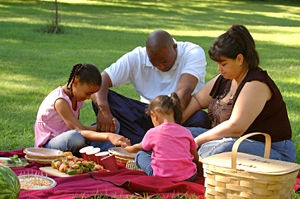 I always think a cup of coffee or a sandwich tastes special when someone else prepared it. Perhaps it was made with good intention?
If a meal or a beverage is prepared with love, the very intention behind the preparation has to be more beneficial to our system and to our sense of well-being. This idea has often occurred to me over the years and there was confirmation of this in various Buddhist articles I happened to stumble across.
Just like our body, mind and spirit, food is made of energy. Energy is further transmitted by touch, and good or bad energy can be transmitted by contact. Even without speaking, subtle invisible thought-forms can also pass from one person to another when one person prepares food and another eats it.
So, as your sensitivity increases with your spiritual growth, blessing your food will be especially important if you consume foodstuff or beverages prepared by strangers. If you just think about how many people are involved in negative pursuits, doing a blessing only makes sense. Low vibration foodstuffs also originate where they've been genetically altered, not to mention livestock reared in terrible conditions. Continue reading →