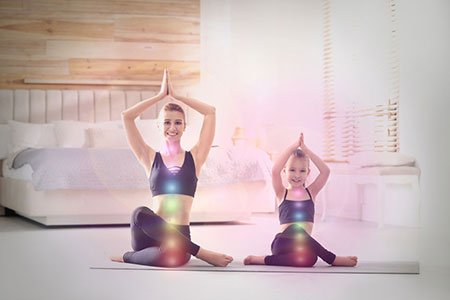 I just did a phone reading for client who said she was feeling as if "the life force has been sucked" from her, after she received an unexpected call from a former work associate.
In hindsight, she says, this individual had always had this effect on her when they used to work together in the corporate field many years ago. She didn't actually put two and two together at the time, but now she realizes that it was him who used to constantly drain her energy at work. At the time, she simply put it down to work stress and exhaustion.
She was surprised to realize that, even over the phone, certain individuals have that ability to drain us! We then discussed how she could even better protect herself psychically and shield her energy field from this former colleague and other energy thieves she may encounter in life.
An interesting aspect of energy protection and psychic shielding that is seldom considered is how children are affected by the people they connect with in life. Children are exposed to various social settings and energy environments that could be toxic and negatively affect their energetic well-being.
The veterinarian I rely on for my pets told me last week that he finds his work overwhelming at times. He feels it is due to the human owners of the pets, rather than the animals themselves.
At times, he says, he finds some pet owners really exhausting, as they bring both their anxieties about their pets, plus their own personal concerns with them. I could sense what kind of clients he had been dealing with to make him feel this way and believe me it was not a pretty sight!
He then asked me about his own two sons who are growing up now and how he could advise them to shield themselves in the future from the energy drain of people, and even social media. This made me think of the increasing number of clients who have been asking me the same question. How can I protect my child from people their energy, should they find themselves in a toxic environment?