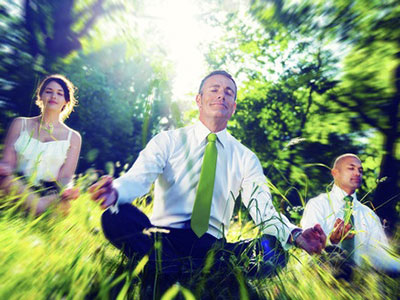 Feeling a little stressed, disconnected and alone? First you're not alone. And second, don't worry, you've got this! Just like your computer, perhaps what you need is a spiritual re-boot. It's time to reconnect with your spiritual self.
Sometimes fear of the unknown, the stress of the day, a certain season, such as the winter holidays, or anxiety about things that seem to be out of our control, can feel quite overwhelming. Here are some ways to become a little more connected to your spiritual self.
Seek Divine Guidance
Enlist the help of Divine energy – God, Goddess, your Angels, Spirit Guides. Seek divine help. Know that you are heard and never, ever alone. Read the rest of this entry »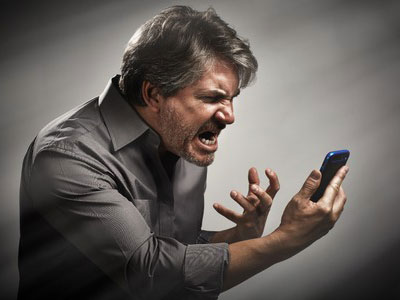 Energy protection is one of my passions. I take it very seriously. It is vital for our health and mental well-being, so we take the time to do things that will help promote our energy, health, happiness and mental clarity, right? Why then do we still find our energies being drained sometimes? Often times we don't even realize who, or what is causing this drainage.
My grandma's fingers are so badly crippled that she cannot text, so she asked me to do her a favor and just send a message to someone on her behalf. I knew in my heart that if I did send this for her, it would be an opportunity for the receiver to throw negativity my way, or rather attempt to. So, I kept putting it off, but she kept begging me. Read the rest of this entry »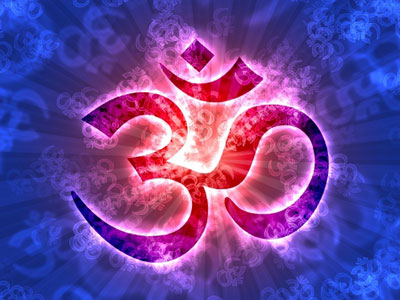 This morning, I ran into one of my friends in our little Spanish town, and we decided to grab a coffee and catch up. I was delighted at how she took an interest in my Om/Aum pendant. She commented on how I seemed to treat my pendant as something rather sacred, and with respect – an interesting observation! She loved the flow of the shapes, and asked if the pendant had any specific meaning.
I had to remove the pendant and study it closely to try and remember what I was taught years ago, in order to give her a brief description to the best of my ability. One by one I tried to connect with each swirl in the design and was surprised that I had remembered quite a lot of what my mentor had taught me. It was a long time ago, when we used the Om/Aum chant in our meditation sessions.
With my pendant on the table I began to explain the meaning of the dot at the top of the symbol, and recalled that this related to the silence after chanting Om/Aum. It represents the Enlightened Self, and is known as the transcendental state of Turiya. Read the rest of this entry »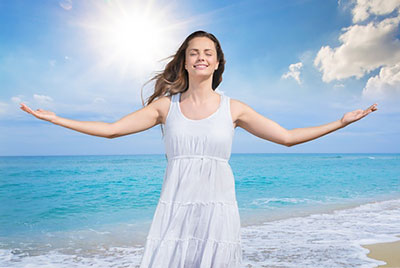 There is no end to learning for humanity. There is no one, really, who 'knows it all.' We are meant to keep on learning; there really is no limit or ceiling on how much there is for us to learn. We are always advancing. This is the whole purpose of our universal lives.
No matter how hard we work in this life, there almost always seems to be something missing… something we tried to reach for, but just seems to be out of our grasp. Maybe we tried a few times, but were disappointed, and eventually gave up. Then maybe we became depressed about this. It is a normal emotional reaction to become depressed, but it really doesn't do us any good to give in to negative emotion. Read the rest of this entry »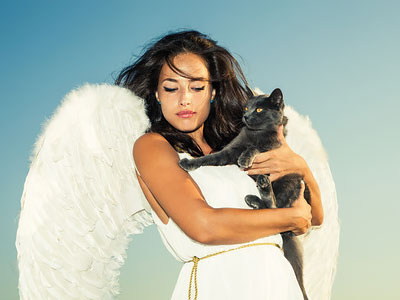 "You have four beautiful angels with you, and you aren't even communicating with them!" These were the words of another psychic at a psychic fayre I was working at several years ago. I had never met him prior to this particular event, and he shouted those words at me as I was walking through the entrance towards my designated work table, to get ready to set up.
And he was so right. As much as I still vividly recalled my vision of angels when I was nine years old, and as much as I was using angel cards in my own readings, and constantly telling my client aware of the angels all around us, I hadn't been speaking much with my own angelic team. Read the rest of this entry »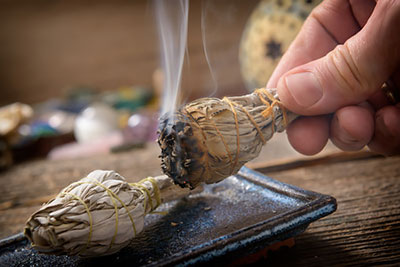 To cleanse using the smoke of burning sage is an ancient Native American healing art, also known as smudging, which is designed to help clear negative energy. It can be used in your home, office, car, and also on your own energy.
If you are feeling depressed, angry, frustrated or even having trouble sleeping, smudging with sage can help you clear your negative thoughts and start anew. To sage yourself, buy organic sage. Place the sage in a bowl or an abalone shell (my preference because of the ocean energy it brings). Using a match or lighter, light the sage. It will briefly produce a flame and then it will just smolder and smoke.
Using your hands, pull the smoke into your face and upper chest area, over and over. While doing this, think about what you want to clear. Be specific and detailed. Then think about what you want to bring into your energy: peace, calm, love, positivity, hope, guidance, kindness, self-love, self-acceptance, vitality, youthfulness, energy, patience. It is helpful to take a shower afterwards, to cleanse all of the vibrations you just released off of your body and energy. Read the rest of this entry »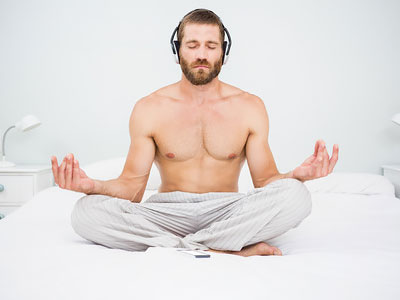 "Music hath charms to soothe the savage breast, to soften rocks, or bend a knotted oak," wrote William Congreve in his classic poem, The Mourning Bride. He seems to have understood that music can soothe anyone who might be be stressed out, overwhelmed, anxious or depressed.
Studies indicate that music and sound heal us in a multitude of way, perhaps even at the cellular level. Long-term patients, nursing home residents, and chronically depressed people have been found to experience healing through sound.
Ancient cultures from Egypt to Japan to Australia used the secrets of healing sound. What these long-ago people instinctively knew, we now attribute to the effect of certain wavelengths upon our brains to calm, relax, and heal. As with acupuncture, these sounds may be able to reset our internal balances and remove negative energies. Read the rest of this entry »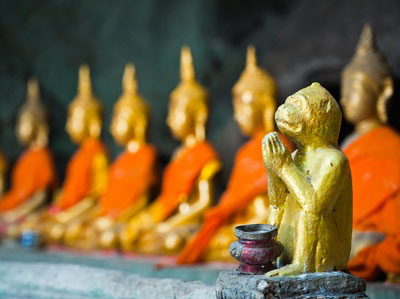 Have you ever heard of the term 'monkey mind?' It originates from ancient Chinese and Japanese Buddhist teachings. We all experience it from time to time. In contrast to thinking clearly, monkey mind feels restless, unsettled, unfocused and uncontrollable. We think too much about the next text message, passing an exam, being able to pay next month's bills, and whatever else lies in our fear centers.
This state of mind can take over if not managed, resulting in high anxiety. We lose our ability to think or to connect with what lies beneath these runaway thoughts. Our thoughts adopt a distorted sense of reality; we act on them only to find that the other person has no idea what we are talking about. Read the rest of this entry »