The Mystery Of Levitation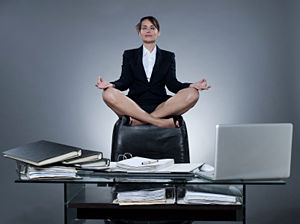 Recently, after doing a psychic reading for a client who owns a Yoga studio, my mind roamed back many years to weekly Yoga classes I attended. The classes were given by the most wonderful lady who was 76 years 'young'. She was vibrant and supple enough to make us younger ones look pathetic by comparison.
One evening our mentor invited us students to a 'levitation' demonstration and that was my very first experience of witnessing a person levitating in front of my eyes. Although there was a lead-up talk, prior to her levitation demonstration, all I recall seeing is that moment when she levitated from her horizontal position on the floor to the same position in a trance like state. She rose up and was suspended in the air at what appeared to be about 3 feet from the stage.
Once you know the weightless force, you have become the master of gravity. You can use it; it depends on you. You can disappear completely with your body ~ Osho
Years later, after a wonderful week's workshop at the Arthur Findlay College of Psychic Research in England, some fifty people gathered from the different classes, including teachers and students, for a meditation. The powerful energy in the hall that evening was indescribable, and in front of my eyes a huge bowl type flower arrangement literally lifted two feet up into the air. Did anybody else witness this? I don't really know and didn't feel inclined to ask. Maybe I didn't want them to dilute the lovely memory for myself, if the others hadn't witnessed it also!
Levitation is the power to make something or someone move in some way by using the power of the mind. The term levitation comes from the Latin word levitas, meaning "lightness". In the process of levitation a person or object resists gravity.
Hindi mystics believe that levitation is achieved mystically only by some gurus, who have mastered Yoga and its spiritual philosophy.
Scientific levitation can be achieved on small objects by the use of magnets, and technically on aircraft using aerodynamic force. An illusion of people levitating is created in magic shows, using special effects, particularly lighting.
You are infinite power identified with a very finite body. Once you realize your self, then weightlessness becomes more and the weight of the body less. Then you can levitate, the body can go up ~ Osho
There have been many reports over the years which state that levitation is an objective ability that we, as human beings, have to change our body weight at will, but that it is easier to achieve by individuals with extrasensory abilities, such as telekinesis or psychokinesis. I was once told by an esteemed yogi that we, as humans, have an inborn ability of the organism to achieve this feat of levitation.
Often, when out walking my dogs, I feel as if the upper part of my torso is being lifted up and I feel very tall when this happens. Although levitation is said to be connected with changing our state of consciousness…and I wouldn't class myself as being particularly 'other worldly' when out walking mischievous young dogs!
About The Author: Shani

Shani is a qualified practitioner in Reiki, aromatherapy, reflexology, body spin, and animal telepathy who received psychic development training at the Arthur Findlay College of Psychic Research in England. A published writer, her articles and predictions have appeared in several respected magazines and on psychic websites, and she has read for many celebrities and even heads of state in Africa. Because of her empathy, people find it easy to connect with her. Every month, she attends a psychic circle and the information that comes through from Spirit never ceases to amaze everyone present. Though she was born in London, Shani has traveled the globe and has studied the art of African Mysticism, bringing her unique flavor to those seeking her incredible talents. What she has taken away from her many travels abroad, is that there is always a sort of longing clients have to be connected to the source of their being. Get a reading with Shani at PsychicAccess.com.


One Response to The Mystery Of Levitation