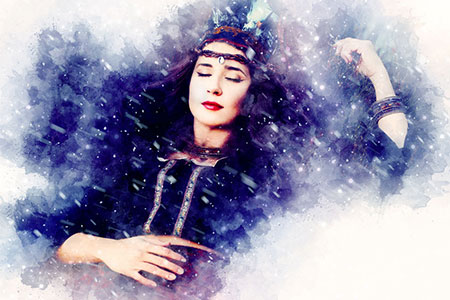 Enduring a harsh winter with extreme weather, in the midst of an ongoing pandemic, is not an easy feat. It reminds me of the 'winter of our discontent' that Shakespeare refers to in the first line of his play Richard III.  This winter-pandemic combo is certainly a 'double whammy' that could potentially break any camel's back! But how we choose to deal with these times will determine how it will serve to improve our lives in the long run.
Winter is actually a great time to think about spiritual and personal self-care, especially in places where there are extreme weather conditions. Where I live, in the state of Maine, the winters weather conditions can be severe, making it a time to just surrender, to give myself permission to rest my body, mind and spirit.
It is a time to go within, to meditate, to read, write, paint, to do things that feed the soul. It is good time to connect deeply with our inner being, the subconscious mind, the higher self. It is a time to retreat, allowing the mind to regroup, and to replenish your body, mind, and spirit. When we take the time to get acquainted with ourselves again, we find truth, wisdom, mental and even physical healing.
If you are going through a snowed-up winter right now where you live, use this time to review your bucket list. Reflect on all that is good about your life. Think about things that are not working for you anymore and the best course of action to move forward. Give yourself time to process it all.
The past year has also been a time of getting to know who we really are and what matters to us most. The global pandemic had some major shocks and surprises in store for those of us who had lost touch with ourselves and the people around us. I have been helping many clients working through these challenges.
For many the pandemic has notably been a time of intense solitude. A time of learning to be comfortable in your own company. In the beginning, the hope was that life would go back to normal in just a few months. But as time has gone on, we have had adjust to the so-called 'new normal.'