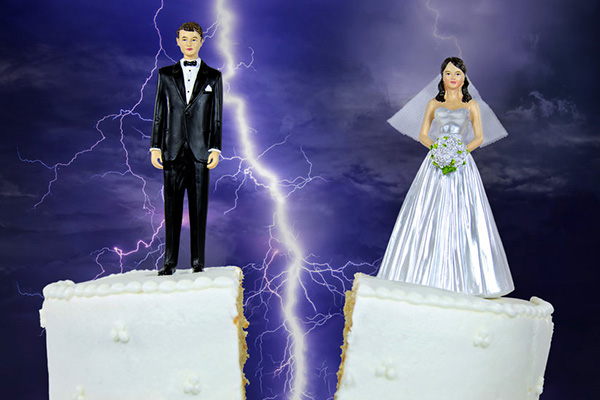 A client asked me once why we would choose to do certain things in our lives, knowing that a particular choice or decision will most likely turn out very badly in the end, especially when our intuition gives us negative vibes about it long in advance? Why do we not opt to prevent such negative events from happening in the first place?
Many years ago, I decided to get married, after dating my soulmate for four years. At first I told my special love that I did not want to get married. I did not understand at the time what was holding me back?  However, I had a horrible premonition about getting married. I thought this was strange, since I dreamed about marrying since I was a child.
By his third proposal to me, I finally agreed to marry, even though my inner voice and senses were warning me of terrible events that will happen after the wedding. Sure enough, there was an accident with the bride and groom cake at our reception. But only the little groom's head on the cake top fell off. Of course, I was far too happy to let this little incident bother me too much and ruin our special day. Our love for each other kept my thoughts positive.
About a week later, the photographer left our wedding picture proofs in my mailbox. Inside the envelope was a note explaining that she had unfortunately messed up some of our wedding pictures. After viewing the picture proofs, I noticed the groom's head was cut off in some of the pictures. Accidents happen and things happen for a reason, but I chose not to acknowledge it at the time. Our love for each other kept my thoughts positive.
I did have an an ominous foreboding at that time, but chose not to focus on it. Our love for each other kept my thoughts positive, despite the premonition that those signs were preparing me for something that might be happening in the future. Seven months after our dream wedding, I fully understood what it meant, when my husband suddenly passed away due to a heart attack.
I can't control my destiny, I trust my soul, my only goal is just to be. There's only now, there's only here. Give in to love or live in fear. No other path, no other way. No day but today – Johnathan Larson
Now, I could have chose to remain depressed and bitter about it for the rest of my life, or I could choose to find the positive in a tragic turn of events. In the end, I let our love for each other keep my thoughts positive, and my outlook on the future hopeful and optimistic.
Would I have changed my destiny, even if I sensed something terrible may be heading my way? My answer to that is definitely no. To this day I believe our marriage was meant to be, and I still have many joyful memories of my late husband and our dream wedding. I accept that he was only meant to be in this world and in my life for a pre-destined period of time. His passing what no his or my choice; it was a matter of destiny and divine intervention.
Whatever the future may hold, you can change your negativity right now, by choosing to focus on the positive aspects of each and every situation. I had the best years of my life with my late husband and his spirit is what keeps me strong and happy. I also know that we will be reunited someday.
Live your life to the fullest every day and embrace your destiny, for better or worse, because everything happens for a reason.