physic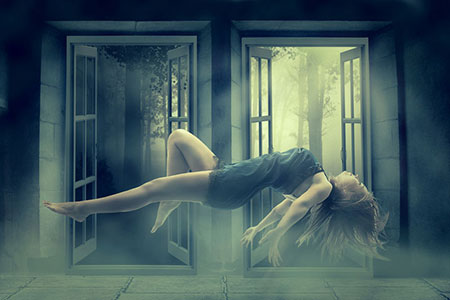 About 12 years ago, right before Christmas, I had a lot going on in my life. I was taking care of my two kids and my brother. My cousin had a three-month-old baby, whose mother was in the hospital with complications due to diabetes. He brought me his new baby and asked if they could stay with us, and if I could care for his son while he worked. He was working the night shift, from around 7pm till 4am. Of course, I said I would help in any way I could.
Between my kids' and my brother's schedules, and now this new baby who was colicy, I was exhausted at the end of the second week. Somehow, I also got food poisoning. Never having had food poisoning before, I didn't know the symptoms and thought I had a touch of stomach flu. Being so tired, I hadn't realized how sick I actually was. After about 18 hours of fluid loss, I become so dehydrated that I had a seizure. My eyes rolled into the back of my head and I fell down. Apparently, I was clinically dead for around 1½ minutes.
I did not experience all of the typical near-death phenomena. There was not any floating over my body; there was no white light, no tunnel. I was simply here and then I was there. The first thing I remember is walking along a sort of grassy path. I don't remember turning around to look behind me, but, I just knew that there was a darkness from which I came, back there.
There were two people there to greet me. A woman and a man, the woman spoke to me first, and the man was a little ways behind her. Today, I could not tell you who these people were. But, when I was there, I was so glad to see them. It was like when I had sent my kids to summer camp, and they were gone for all those summer months, and I missed them terribly. It was the same feeling I got when seeing my children for the first time returning home. I had a deep love and bond with these two people.
The next thing I remember is that I was taken to the top of a mountain. There was no journey to get there, I was just there. The only way to describe the mountain is that it was like standing on top of Pikes Peak and looking out. I was so high up that the only thing I could see was blue sky.
Posted in

Afterlife, Angels, Life Design, Metaphysics, Paranormal Phenomena, Reincarnation / Past Lives, Spirit Guides, Spirituality
|
Tagged

afterlife, angel, Angels, apparition, Ascended Masters, beings, Children, communication, crossing over, darkness, death, destiny, disease, divine, dogma, electro-magnetic energy, entities, etheric realm, future, god, guardian angel, higher consciousness, higher self, human body, illness, joy, life, life lessons, life purpose, lifetime, light body, memories, metaphysics, near death experience, out-of-body experience, paranormal, paranormal phenomena, parenthood, past, past life regression, past lives, physic, planet earth, pre-destination, present, prophet, rebirth, reincarnation, religion, serenity, siblings, soul, soul agreement, soul recognition, spirit, spirit guides, spirit realm, spiritual messages, the other side, time, white light
|
Leave a comment