Thriving In The Winter Of Our Discontent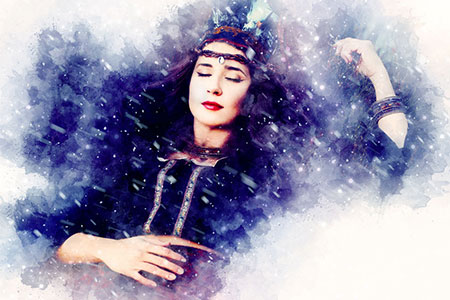 Enduring a harsh winter with extreme weather, in the midst of an ongoing pandemic, is not an easy feat. It reminds me of the 'winter of our discontent' that Shakespeare refers to in the first line of his play Richard III.  This winter-pandemic combo is certainly a 'double whammy' that could potentially break any camel's back! But how we choose to deal with these times will determine how it will serve to improve our lives in the long run.
Winter is actually a great time to think about spiritual and personal self-care, especially in places where there are extreme weather conditions. Where I live, in the state of Maine, the winters weather conditions can be severe, making it a time to just surrender, to give myself permission to rest my body, mind and spirit.
It is a time to go within, to meditate, to read, write, paint, to do things that feed the soul. It is good time to connect deeply with our inner being, the subconscious mind, the higher self. It is a time to retreat, allowing the mind to regroup, and to replenish your body, mind, and spirit. When we take the time to get acquainted with ourselves again, we find truth, wisdom, mental and even physical healing.
If you are going through a snowed-up winter right now where you live, use this time to review your bucket list. Reflect on all that is good about your life. Think about things that are not working for you anymore and the best course of action to move forward. Give yourself time to process it all.
The past year has also been a time of getting to know who we really are and what matters to us most. The global pandemic had some major shocks and surprises in store for those of us who had lost touch with ourselves and the people around us. I have been helping many clients working through these challenges.
For many the pandemic has notably been a time of intense solitude. A time of learning to be comfortable in your own company. In the beginning, the hope was that life would go back to normal in just a few months. But as time has gone on, we have had adjust to the so-called 'new normal.'
If we had no winter, the spring would not be so pleasant: if we did not sometimes taste of adversity, prosperity would not be so welcome ~ Anne Bradstreet
So, what does one do in these circumstances? I have always been a too busy person, with not enough hours in a day to accomplish all the things I felt needed to get done. Being forced to slow down by the pandemic has been quite an experience for me and brought up a plethora of mixed emotions initially.
But I have since learned to meditate more than a five-minute power meditation; now 25 to 30 minutes go by in a flash. I also have no guilt for simply laying on the sofa and listening to Deepak Chopra and Oprah's guided meditations.
While meditating one morning, the thought came to me: why do I feel guilt when I take time for myself? The very next thought was that after many animals take a 'winter siesta.' They are naturally programmed to do that. There is guilt involved for them.
Some people, however, find it almost impossible to be alone with their own thoughts. They keep as busy possible, doing things for others, or simply go out of our way to stay busy. This is a self-defense tactic, of course, so they will not have to think about anything that might challenge them or cause any stress.
Some people also feel if they are not doing anything productive, they are being lazy or irresponsible. It is a guilt trip that some people put on themselves. Many of them were brought up with the idea that a 'mental health day' or a self-care day is a selfish luxury.
I prefer winter and fall, when you feel the bone structure of the landscape — the loneliness of it; the dead feeling of winter. Something waits beneath it, the whole story doesn't show ~ Andrew Wyeth
It is easy for many of us to justify neglecting ourselves to help others. This is especially true for moms, family caregivers and those in the helping professions. Everyone wants to be appreciated and acknowledged, and it is natural for most people to be thankful when we help them. But in the end not taking care of yourself too will render you incapable of being there for others.
How will the winter of 2021 and the current 'new normal' define the rest of your life? Now does not have to be the winter our our discontent. Use this time wisely and make the most of it. For someday soon it will be spring again, and after that will come the glorious summer! The question is: will you be ready when better days are finally here again?

About The Author: Elizabeth

Elizabeth's talents go back several generations. She found her own gifts and embraced them at an early age, recognizing the difference between herself and most others around her. She's since honed and mastered many metaphysical practices, providing hypnotherapy, Psychic Mediumship, Mysticism, and Hypno-Reiki to her clients in Maine, and in areas around the US and in Canada, where she travels. A lover of pets, they are her greatest teachers and these unconditionally loving creatures often chime in on a reading in addition to the Angels, Guides and loved ones who provide resolution and answers for each of her clients. Elizabeth is also an author with much spiritual wisdom to impart and is currently working on a book. If you'd like to be a recipient of her unique Psychic Wisdom, find peace and receive answers that will also benefit your highest good, you can reach Elizabeth at Psychic Access.