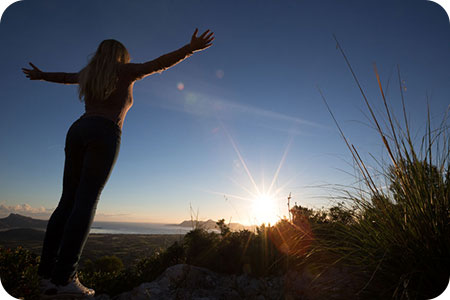 Doing psychic readings, I sometimes talk to someone who thinks they are 'going crazy,' but in actuality they are experiencing symptoms of spiritual awakening. But how does one recognize the common symptoms of spiritual awakening?
The term 'spiritual awakening' is somewhat overused these days in metaphysical circles. Just about anyone who has a 'woo-woo' moment, or gains deeper insight into a situation, or suddenly sees chakra colors, seems to believe they are having a true, full-blown 'spiritual awakening.'
Spiritual awakening does tend to occur spontaneously, and from what I've witnessed, the more open-minded the person is and the less attached to outcomes they are, the more available or 'ripe' they are for a spiritual awakening to occur.
Just the other day a client was telling me of her experience while peeling a carrot over the kitchen sink. She said she was looking down at her hands, watching them, and wondering what was animating them? It can be a strange moment when you discover that you are not really who you thought you were. It can be disorienting, to say the least, to see yourself from such an objective position. However, if you know ahead of time that this is perfectly normal, and others have experienced these signs too, it can make your life a lot easier. Continue reading →