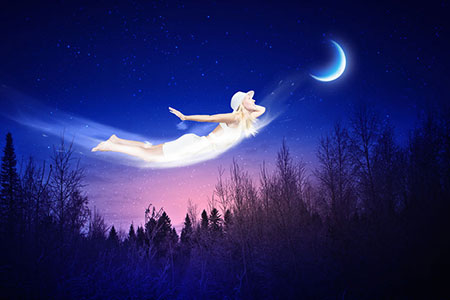 Traditionally many cultures worldwide centered their spiritual practices around the Moon and the phases it cycles through once approximately every 29 days. These phases reflect the Moon's journey around the Earth, revealing a little more or a little less of this mysterious satellite.
Much like the cyclic seasons of the year, the Moon's phases represent different aspects of personal contemplation for the spiritual practitioners and metaphysicians. The Moon represents our intuitions, hidden aspects of self, and the nurturing empathy a mother would show a child.
The New Moon begins and ends each lunar cycle. As a 'blank canvas' it suggests new beginnings, or the completion of a full circle. This is the starting point for working with the Moon's phases. Time your lunar calendar each month around the New Moon. Note, it will not be visible, but instead a dark circle. Use a white candle or another source of light to represent the fully illuminated Moon that is to come and start new ideas or projects.
As the Moon grows in size it goes into its 'waxing' phase. It will first become a crescent shape a quarter of the way in its orbit around the Earth, and later a wedge shape called gibbous. As it grows, so too will you and your ideas. Each day, ask yourself what is going right. Ask the Universe for guidance and inspiration, and remember that it's all right to change plans or make revisions.
As the Moon is in its growing phase, each day a little more of its surface is cast in light. The Moon also rises an hour later each day in the cycle. Its many craters are a reminder that despite perceived flaws, something can be wonderful when illuminated.
We are all awed by the sight of the Full Moon glowing in the sky. This is the time in the cycle when we can enjoy the fruits of our efforts, and also examine what worked or did not work in practice. This is also the time in the lunar cycle when emotions run at their highest, so be careful of acting too impulsively. Be sure to also show gratitude and humility for what you've accomplished so far.