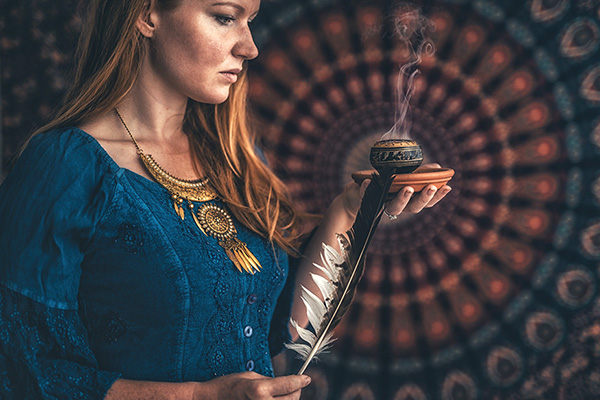 Smoke cleansing is an ancient spiritual practice found in many faiths, cultures, and wisdom traditions all over the world. These age-old rituals, ceremonies and healing practices involve the burning of various aromatic plants, resins, and woods and have been practiced since humans first discovered fire. Traditionally ceremonies and rituals involving smoke are mostly used for energy cleansings and spiritual blessings, but the purposes, techniques and materials used vary widely among belief systems, tribes, nations, and cultures.
The burning of incense, for example, was a revered practice in ancient Egypt as part of religious ceremonies. This practice continues today in the Roman Catholic church, with the burning of incense to amplify prayers and intentions.
In both Hinduism and Buddhism, incense is burnt for ritual offerings and rites, while in ancient China incense was burned during festivals and processions to honor ancestors and household gods, and in Japan it is part of the Shintō purification ritual.
In ancient Rome cinnamon was burnt during funerals. The Assyrians burned various aromatic woods in their homes, temples, and places of healing. In traditional Chinese medicine, the burning of agarwood and sandalwood is done to promote emotional wellness and physical healing.
One of the most well-known smoke cleansing traditions, especially in the United States, is known as smudging. To 'smudge' means 'to make a smoky fire' or 'to emit a dense smoke.' Smudging involves various purification and healing ceremonies originally practiced by the indigenous peoples of the Americas. Certain sacred herbs are traditionally used in smudging to purify and bless people and places, of which the most commonly used today is white sage or salvia apiana, also known as bee sage or sacred sage. It is an evergreen perennial shrub native to the southwestern United States and northwestern Mexico.