We Should Be More Like The Turtle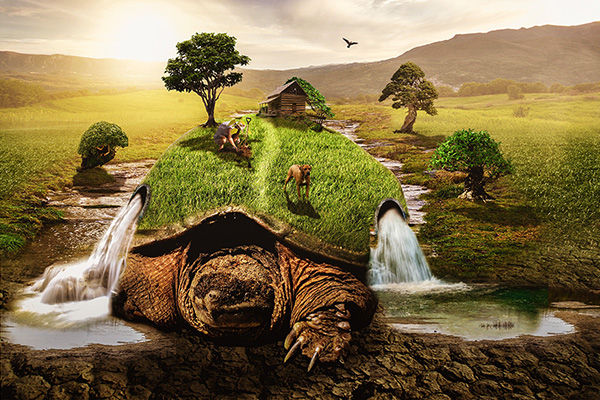 Most people seldom give themselves permission to take a breather and just relax. As a hypnotherapist, I often see clients for stress relief sessions. In this case, they usually feel it is more justified for them to take some time out, because they are paying for a form of professional healthcare. After all, they made an appointment for the session and their doctor referred them. So, it must be okay.
Many people cannot even relax on a vacation! They feel they absolutely must do all the tourist things, even if they are tired, or the money they spent of the trip will be wasted. Or they feel compelled to spring clean the hotel room, instead of lying on the beach. Only to feel they need a second vacation to recover from the first vacation once they return home.
In the good old days, folks used to simply take a 'joy ride' somewhere with no real purpose or destination in mind. They did it purely for the enjoyment and the adventure. It was a standing joke in my family that if you chose to get in a car with my dad, you had better have the entire day off, because you never knew where you would wind up or what time you would get back home.
My kids still reminisce about our family taking a ride during the holidays to see all the Christmas lights and decorated homes. We used to stop for hot chocolate with marshmallows and everyone received a homemade cinnamon candy cane. It was the tradition.
Today, we live in such a busy, fast-paced world in which we feel guilty for taking time to take care of ourselves. But what is more important: the journey or destination? We all need to rest and restore our body, mind, and spirit on a regular basis. Neglecting one's self-care is a prescription for poor long-term health, and making bad life choices.
Take some time to rest and recover. You don't always have to be so busy, or pushing yourself so hard. Step back and take care of yourself. These moments of self-care will add value, energy, purpose, and creativity to everything you do. Find a healthy balance, and enjoy your life ~ Idil Ahmed
When I do psychic medium readings for people who are in dire need of a mind, body, and soul break, I often see a turtle retreating into its shell. It is my clairvoyant symbol that the person needs to take some time to slow down and go within to check in with their higher self.
Our higher self knows what is best for us. When you want clarity about a situation, person, event, or circumstance all you need to do is connect with your higher self. The preferred way for most people to achieve this is simply to meditate.
Take some time out and find a quiet space to direct your attention inward. Think about your intention. What would you like your higher self to advise you on. Take some time to really think about this. Don't rush the process.
When I teach a class on this subject, I ask my students to write down two or three things they would like advice on. Then we do a guided meditation. They are invited to imagine themselves being like turtles, going within their shells, all snug, safe, and comfy. When we feel safe in our own 'shell,' It is easier to let go of the distractions of the external world and communicate more clearly with our higher self. In our 'turtle shell' we feel protected from negative energy. We can let all negative thoughts and worries go, like clouds in the sky just floating by.
Life is an experimental journey undertaken involuntarily. It is a journey of the spirit through the material world and, since it is the spirit that travels, it is the spirit that is experienced. That is why there exist contemplative souls who have lived more intensely, more widely, more tumultuously than others who have lived their lives purely externally ~ Fernando Pessoa
When I personally seek guidance from my higher self, I ask for advice that is for my highest good – useful and helpful information only. My higher self has never let me down, even when the information is not what I expected or hoped for. Whether I like it or not, it always turns out to be the best course of action for me.
We should be more like the turtle. In the end, slow and steady wins the day. Could this be why turtles are among the longest living creatures of the planet? Because they instinctively know when to take a break and retreat from the world? For our highest good, we must also know when it's time to put ourselves in a timeout and retreat into the shell of our inner world.

About The Author: Elizabeth

Elizabeth's talents go back several generations. She found her own gifts and embraced them at an early age, recognizing the difference between herself and most others around her. She's since honed and mastered many metaphysical practices, providing hypnotherapy, Psychic Mediumship, Mysticism, and Hypno-Reiki to her clients in Maine, and in areas around the US and in Canada, where she travels. A lover of pets, they are her greatest teachers and these unconditionally loving creatures often chime in on a reading in addition to the Angels, Guides and loved ones who provide resolution and answers for each of her clients. Elizabeth is also an author with much spiritual wisdom to impart and is currently working on a book. If you'd like to be a recipient of her unique Psychic Wisdom, find peace and receive answers that will also benefit your highest good, you can reach Elizabeth at Psychic Access.