Solitary Bliss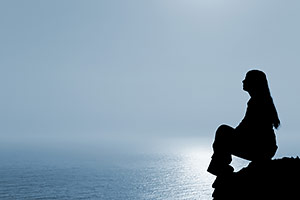 I like to do many things by myself – alone. I can concentrate better when I'm left to my own devices. I feel centered and complete when I'm in my own little retreat; my energy is my own and I don't have to be disrupted in any way, shape or form.
When I am out in nature taking walks, or wanting to spend time with God in prayer, I am at my most peaceful. I like to meditate alone. I get more out of whatever I'm doing when I am doing it with just me, myself and I.
I respect those who need others to feel connected. I feel we are all on our own journeys and that is what makes us all unique.
Inside myself is a place where I live all alone, and that's where I renew my springs that never dry up ~ Pearl Buck
Some may say that we have arrived and have become enlightened when we no longer need to feel connected and accepted by others, but to be okay with spending time with yourself is to me simply a sign that you are fully awake and connected, but also free to fly. Free, like the character in the wonderful book by Richard Bach, entitled Jonathan Livingston Seagull. I read that book when I was very young and it spoke to me in the most profound way!
When I'm with others, at certain times I feel smothered. I feel almost inundated with chaos and drama and I start to get headaches. I'm one of those people who really becomes rejuvenated and highly in tune with everything when I get to spend time by myself.
I don't usually call myself a "solitary practitioner," but I think it is fitting, as I like to do many things in solitary. I just do it better that way, be it cooking, cleaning, singing, thinking, meditating or praying.
It's a wonderful thing to be able to be alone and be okay with it. I consider myself very lucky to feel so much bliss when spending time alone. One word to describe it would be sublime! I feel connected to heaven when I'm alone.

About The Author: Moon Goddess

Moon Goddess is a third generation empathic healer and seer. She started to give healing readings to people more than 20 years ago. She has always been interested and studied all things metaphysical from a young age. Being hypersensitive she can feel and see things before they happen. Utilizing the Tarot, and with the help of her Guides, she is a source of support for many people all over the world. After he passed over, her grandfather kept his promise and came back to say goodbye and gave her the most amazing experience. Moon knows there truly is a Heaven, and it is wonderful! Sharing her experience has helped many people after they have lost someone, or anyone experiencing some form of grief. Get a reading with Moon Goddess now at PsychicAccess.com.