Queen of Pentacles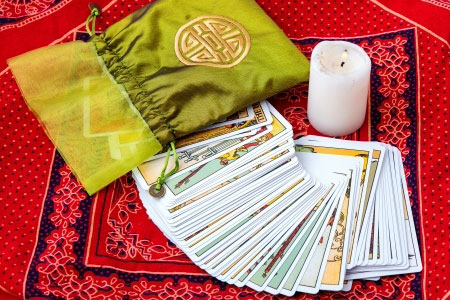 Purchasing your own Tarot deck may seem overwhelming for the newcomer, but can actually be a very magical experience. Back in the 'dark ages,' when I decided to purchase my first Tarot deck, I remember getting a plethora of recommendations from others to buy certain decks. I was overloaded with opinions, none of which I listened to in the end.
I've always been a bit of a rebel, so I chose a deck that I felt most drawn to. I remember the day well, I visited a little metaphysical shop in Michigan and was immediately drawn to the back of the store, where there were some revolving racks with Tarot decks on display. I felt almost mesmerized by one deck.  It's theme was angelic, and although the images, design, and roman numerals were not really suited for a beginner, it didn't matter to me, I bought the deck anyway.
When I got it home, I took it into my herbal room, laid it out on some black silk, to anoint it with consecration oils of rosemary, basil, star anise, frankincense, myrrh, and patchouli. I held a pendulum over the cards to program it with my intentions, and to activate it.
After that, I fanned the cards out on my herbal table and slowly waved my palm over the deck, sending my energies into it to align and connect with it as my sacred tool. Lastly, I asked Spirit to oversee the deck by placing it into the right hands once they left mine. Continue reading →