wholeness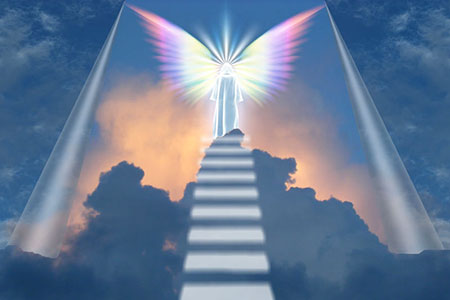 The term 'angel' often means different things to different people. The true definition of the term is 'messenger of the Divine.' The English word angel derives from the Latin angelus, which in turn was borrowed from the Greek angelos, literally meaning 'messenger.'
Angels in this context can therefore be anyone who brings us a message or gift from the Divine! In my own life I have experienced several physical messengers from God – both human and animal angels! However, this blog is about the spiritual angelic beings who are not of this world, but merely interact with humankind.
Firstly, we need to discern the difference between an angel and a guide. All spiritual beings emanate from the Divine Loving Essence, the Source, God, the Eternal, and exist in the Oneness, which is why all beings can be angels. However, the spiritual definition of angels, that stems from many religious traditions, are beings that have never had any physical, incarnated experiences.
Spirit guides have had prior incarnated experience. They are either a being who has had an incarnation on this earth plane, or another plane of existence. Guides can therefore relate to our human struggles of free will and soul growth, as they have faced these challenges themselves. They can help guide us through these challenges with deep empathy and wisdom.
Angels on the other hand are beings that have never experienced the potential hazards and hardships of free will. They have never gone through any of the contrasting experiences we have as humans. They are an expression of pure, unadulterated love, joy, and peace. They do not have the capacity to empathize with our physical experience of contrast, but they deliver instead direct messages from Spirit, that emanate from the Divine Source.
Posted in

Angels, Healing, Life Design, Metaphysics, Reincarnation / Past Lives, Spirit Guides, Spirituality
|
Tagged

adversity, angel, angel guidance, angel messages, angel readings, Angels, archangel, beings, centering, challenges, contrast, criticism, dimensions, divine, divine inspiration, divine love, divine order, empathy, entities, eternity, free will, god, guardian angel, guidance, hardship, holy, incarnation, joy, judgment, Law of Oneness, life challenges, life design, life drama, life experience, life lessons, life path, life purpose, peace, planes, planet earth, reincarnation, self-realization, separation, soul purpose, source, spirit guides, spiritual guidance, spiritual messages, spiritual wisdom, support, transcendence, unconditional love, wholeness, wisdom
|
Leave a comment