Using The Mandala In Your Spiritual Practice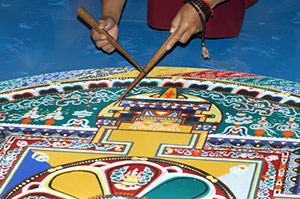 A few years back I taught a class on sacred geometry. My favorite section of the class was related to using mandalas as a tool for the inward journey and I would like to share this with you. I have always found it easier to start with a graph based of concentric circles, but others start with a circle and their imagination or intuition.
When using a mandala as a form of meditation you begin by creating a large circle. Start at the outer edge of the circle to begin your session and work your way around the outer edge. Gradually work your way to the center of the mandala – this represents the inward journey.
We start by creating patterns and designs on the outside of the circle. This is the largest part of the circle and represents the universe. Understanding the expansiveness of the universe we can feel very small and insignificant, so it is important to move inward to find our grounding within the cosmos.
I knew that in finding the mandala as an expression of the self I had attained what was for me the ultimate ~ Carl Jung
As we move inward in our mandala we contemplate our planet, then our country or large group of people we identify with the most.  For many people this can be a religious tradition. We then move to contemplating our acquaintances, family, and friends.
Towards the center many mandala meditators will create four sides, or a square that leads to the center of his or her mandala. These four sides represent the four cardinal points, South, West, North, and East.
The four cardinal points can represent many things: the four noble truths of Buddhism, the Four Rules of Spirituality from the Hindu tradition, or Four Paths also in the Hindu tradition.  I would have to say that the four paths are likely my favorites, since they can represent doors to the divine. Contemplate these paths as you work on the four "doors" that lead you to the inner section of your meditation. Each of these examples represent access points to the divinity or source of enlightenment that exists within us.
The Four Paths
Bhakti Yoga is the path of devotion. This is the path of a symbolic representation of spirituality. It is represented by worship practices, sacraments, and prayer.
Karma Yoga is the path of selflessness. This path is a path of selfless action toward our fellow men and women.
Astanga or Raja Yoga is the path of physical and mental exercise. This is a representation in your practice of physical exercise and also the path of meditation.
Jnana Yoga is the path of wisdom and knowledge. This path is a representation of our attainment of knowledge and understanding through study.
Each one of these paths can represent a way to access our inner sanctuary.
Now we are at the center. This is the time for us to contemplate our inner being. Spend some time here. You may want to visualize light in the center of your body, or even contemplate what is going on inside of you. This is also a time to be free to feel. You are accessing the You that is you, so this is not a time to be evasive and deny what is going on. I have found that amazing resolution to the most difficult problems can come from this inner place.
Each person's life is like a mandala – a vast, limitless circle. We stand in the center of our own circle, and everything we see, hear and think forms the mandala of our life ~ Pema Chodron
Now that you have aligned yourself with the peace and love that is already within you, you can begin to move outward. Slowly move from the center circle to the outer circle, adding details or sharpening the design. As you are moving outward contemplate how the Divine in you is being expressed throughout your family, your country, the world, the universe. This is also a great time to contemplate the divinity in all.
This is a wonderful meditation strategy. Many times people tell me they want to have a spiritual practice, but do not know where to start. Sacred geometry is a wonderful way to engage both the right and left hemispheres of the brain in your spiritual practice. This increases our spiritual awareness and teaches us to be able to interpret and effectively communicate spiritual truths.

About The Author: Cosmic Coach

Cosmic Coach (James) has mastered many techniques in his psychic practice to connect with the unique heart center of each of his clients. He is a Reiki Master of many traditions, who is adept at crystal healing, card readings, and delivering detailed messages from Angels and Guides. A Christian Minister, a teacher and an Energy Guide, living in Michigan, James is always expanding the base of his knowledge to broaden his reach and serve as many clients as possible. To experience a unique reading personally designed for you, you can find Cosmic Coach at PsychicAccess.com.