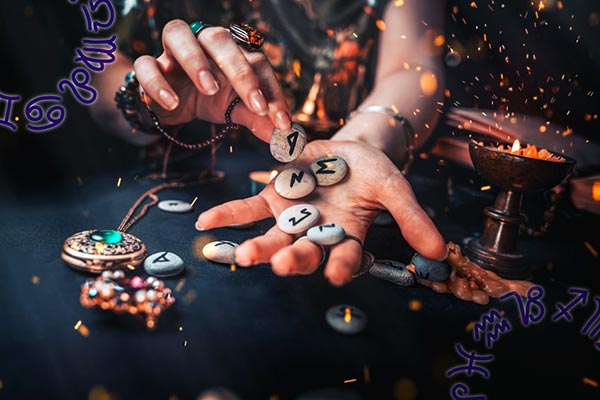 Rune casting is not the most well-known form of divination. Nevertheless, once you start working with it you will discover that it is a potent and fascinating means of divining the future.
The runes are an ancient Nordic alphabet called the Futhark that existed long before the Latin alphabet was adopted in the late Middle Ages. Each of the mystical rune symbols represent a particular phonetic sound.
The history of the runes is as fascinating as the runes themselves. Believed to have been developed in Scandinavia during the time of the birth of Jesus, the runes can be used to write from left to right or from right to left, and the words are based on the sounds they represent. The shape of the runes varied widely from region to region.
It is said that runes must first be activated before it can be used in casting. There are various ways to do this energy charging or intention setting. All good quality rune sets come with an instruction booklet on how to get the most out of their use.
It has become a modern trend for runes to be read in a similar way as tarot cards, by drawing individual runes and laying it out in a formal spread. However, rune casting is traditionally done in a similar fashion as African bone casting. Similar to Tarot and the I Ching it is an intuitive art that is not limited by strict interpretive definitions and pedantic rules.
When you're new to rune divination, it can helpful to start by choosing one or two runes to focus your intention for the reading on. Then mix all the stones by shaking the bag. When you're ready to cast, simply drop the runes onto a cloth and randomly spread them out.
Essentially the same rune is never interpreted exactly the same way from reading to reading. Each new interpretation will depend on the traditional symbolism of the particular tune; the original intention or question; the context of the surrounding runes; as well as the reader's unique intuitive interpretation in that moment.