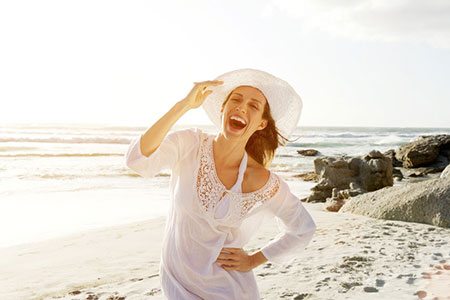 Are you living the life of your dreams? Are you happy or content most of the time? Do you face challenges with confidence, or perhaps dread? Do you compare yourself with others and feel sad, miserable, or even angry at their success? Regardless of whether you feel as though you are at the bottom of the barrel, or soaring among the clouds, there is always room for improvement, and it is never too late to get started.
One of the biggest errors in judgment is all-or-nothing thinking. You do not need to drop everything in your life and start with a blank slate. Not only would that be impossible, it would be totally impractical. Your life so far is a culmination of all your experiences, education, career opportunities and family interactions, and cannot be wiped away like a chalkboard. Instead, you can, and should, start by making course corrections and taking baby steps in the right direction.
Set your intention first. Visualize the end result. Begin the process of redesigning your life gently and allow the universe to conspire in your favor over time. Whether you choose to go back to school, read a book, take a course, attend a conference, learn online or join a group, do something that makes you feel happy and fulfilled. Do it because you want to, not because you have to.
Set realistic goals and deadlines. If you are juggling a family or career or both, be sensible in your expectations of yourself. Things take time and if it is worth doing, it is worth doing well. Do not expect overnight results. Life is not a success-only journey, however, each setback holds a series of invaluable lessons. Deal with each issue, learn from the experience and move on with confidence. Continue reading →