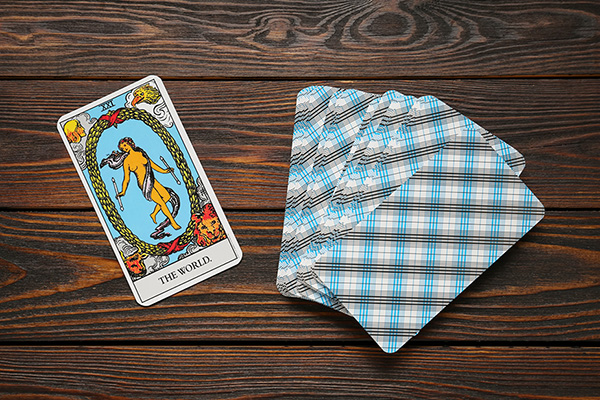 The World card in the Tarot remains one of my firm favorites. I am all for personal and spiritual growth, the completion of cycles, and new beginnings. The World represents exactly that: the ending of a cycle and pause in life, before the next major cycle begins with the fool.
The journey from the new beginnings of The Fool to the fulfilling endings of The World is a constant evolutionary process in our everyday lives that is represented by the sequence of the 22 Major Arcana cards of the Tarot. The World is the 22nd trump and therefore final card of the Major Arcana.
I have reflected on the imagery of the Rider-Waite version of this Tarot card in great detail. Rider-Waite is probably the most popular and universally recognized Tarot deck. The illustrations by Pamela Colman Smith at first glance appear simple, but the details and backgrounds feature abundant mystical symbolism.
The World pictures an empowered figure within a wreath – traditionally a symbol of victory, success, achievement, and eternal life. The figure holds a wand in each hand, which is reminiscent of the Magician card and the Two of Wands. However, while The Magician holds only one wand, the two wands in the The World card represents fulfillment, wholeness, balance and coming full circle.
The card is framed by four animals on the diagonal. The depiction of these four creatures parallels the four animal symbols used in Christian art to represent the four Evangelists, namely Matthew, Mark, Luke, and John. The four animals also represent the zodiac signs of Taurus, Leo, Scorpio, and Aquarius, the four fixed signs in Western Astrology, which in turn represent the classical four elements of Earth, Fire, Water and Air.