mortality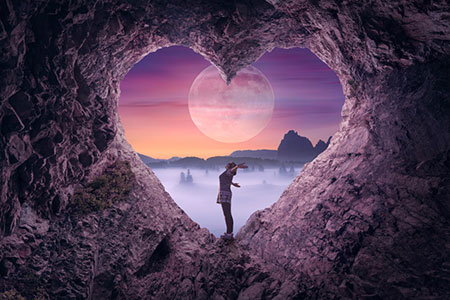 I woke up from a powerful dream this morning. I was on the top floor of a high-rise building that had been struck by lightning. The building slowly started to move, to quake. I could see from the window neighboring structures being destroyed, and I sensed my own building's collapse was imminent…with me inside it!
Could I make it down the stairs in time? I was about to try, but my exit was delayed by a pair of sparkling opal earrings that I simply had to take with me! But I could not manage to hold onto them for long. They kept slipping out of my hand, while the apocalypse was happening all around me.
I just had to bring the blingy earbobs – I am a Taurus, after all.
Then, as I gazed at the two little treasures, a stark truth hit me. I suddenly realized these material things do not matter in life and it shouldn't delay me further. I also understood for some reason that the earrings now belonged to someone else and would bring them much joy in future. So, I returned the jewelry to the table where I found it…just before my building finally came crashing down.
Certainly, a lot to unpack. Temptation, ownership, materialism, impermanence, spiritual values, mortality, life goals.
But let's get back to the dream.
Somehow, incredulously, like in a Marvel Comics adventure, I landed outside, unharmed. Then I found myself on a raft, with my immediate family all suddenly with me. We were rapidly floating together down a river.
Then it was time for us to get off, before we got hurt, but we were reluctant to do so. Suddenly, there was a friendly tribe of indigenous people on the bank of the river, expectantly waiting for us by a wall. So, we felt safe to dive off the raft, and we did so. The tribe members showed us the way through a hidden opening in the wall, and we all made it out safely to someplace new!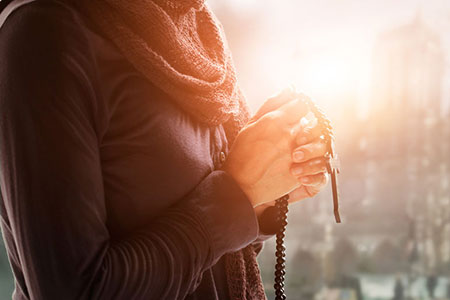 Some of us are merely going through the motions every day, doing what we think others expect of us, doing the 'should' we put on ourselves. Living life by rote. I equate this to saying prayer beads. It becomes almost an unconscious act. So, when something unexpected happens, like the coronavirus pandemic, and we are forced to slow down, or even come to a complete halt, we are suddenly confronted with our own truths.
For some of us, the only things that then come to mind are all the things that we perceive we have done 'wrong' in the past. We feel guilt over all the people we have disappointed or hurt. We mourn the relationships that did not go the distance. We obsess over the skeletons in our own personal closet.
When we get into this mindset of shame and regret, it affects our immune system and our well-being. The 'poor me, bad me, angry me' turns into a very 'toxic me.' When the world seems to be falling apart, the mind does a life review. We let the fear and regret creep in. What if there really is an afterlife, even if you have always said, "I don't believe in heaven and hell." The 'what if's' in life can really do a number on us. When faced with uncertain times it is only natural to think about our own mortality, and our failures and past mistakes.
One thing I find that really helps, is to reflect on the good memories. Let the unpleasant ones come and go, and not reside in your mind. Thoughts are such powerful things, especially when you are still reflecting on things at 3am in the morning, while you should be sleeping. These worries and bad memories are usually things we can't do anything about, even if we desperately want to.
When things seem out of control, flip the switch. Reflect instead on all the things you have accomplished. Think about things in your life that have brought you great joy. Times that even one person said good job. People that have said "I hear you," and "you matter to me."