Perfect Love Is For Better Or Worse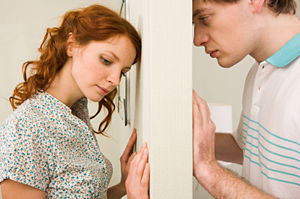 What is perfect love? Is there such a thing? How can two people make their love last? Do we belong together? If we argue, does that mean we are not soulmates? These are a few of the questions I get asked in relationship readings.
The answer is the best of marriages have had their ups and downs. Perfect love is loving your partner when things aren't perfect. It's seeing through the negative energy and working through it.
Working through can take many forms. It may be leaving the house and taking some time away, or spending some time away from one another in some way, shape or form. Space and time heals all, especially for those that are living together, or married. There is much truth in the popular Chicago ballad, Hard to Say I'm Sorry, because everybody does need "a little time away".
Love is an act of endless forgiveness, a tender look which becomes a habit ~ Peter Ustinov
Perfect love that lasts always goes through ups and downs, like an exciting roller-coaster ride. In my experience people who remain married for a very long time make their relationships last by being flexible and going with the ebb and flow. Successful partnerships cruise along on this cosmic wave we call Life. And when those big waves roll in during more challenging time, they just ride it through, as there is always smoother sailing ahead. Hard times never last.
There was a lady I was reading for a while ago, and I asked her how long she had been married. It was over two decades. I then asked her what it was she thought made their relationship last so long, and she said it was simply by sticking through both the good and the bad times. For better or worse. She then added, however, that she would never put up with a cheater or an abuser.
That is obviously a good rule of thumb for any woman. If he raises his hand to you, or cheats on you, he does not love his mate as he should. It is a definite deal-breaker. Everything else I believe can be dealt with, often by taking some time out and giving each other space, before you come back together. That is how love lasts!

About The Author: Moon Goddess

Moon Goddess is a third generation empathic healer and seer. She started to give healing readings to people more than 20 years ago. She has always been interested and studied all things metaphysical from a young age. Being hypersensitive she can feel and see things before they happen. Utilizing the Tarot, and with the help of her Guides, she is a source of support for many people all over the world. After he passed over, her grandfather kept his promise and came back to say goodbye and gave her the most amazing experience. Moon knows there truly is a Heaven, and it is wonderful! Sharing her experience has helped many people after they have lost someone, or anyone experiencing some form of grief. Get a reading with Moon Goddess now at PsychicAccess.com.