Being In Your Element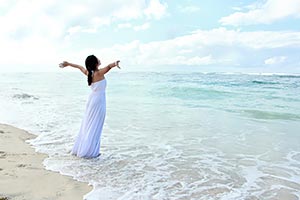 A former work associate, whom I hadn't heard from in several years, recently called me to touch base. She asked me how I was doing and out popped my words: "I am in my element! I am working from home, doing what I love and surrounded by my menagerie of many".
After we ended the call, I began analyzing what I had just said, and just what "being in my element" really meant, because it isn't a term I use regularly. It made me more aware of how I had specifically set my intention and manifested the actual circumstances I wanted to work in, even though, right now, I am in the process of manifesting them on another continent!
It's your place in the world; it's your life. Go on and do all you can with it, and make it the life you want to live ~ Mae Jemison
I've worked in the corporate world in the past, and experienced its pressures – working illegal, soul and health destroying hours for unscrupulous bosses who would manipulate the books to make their staff's hours look fair and safe.
So, I relate easily now to the pressure that customers whom I read for are under, with many young people suffering from auto-immune illnesses from all the stress. There is no way they can be in their element, but I always encourage them to set their intention to bring about the circumstances that will enable them to do what they love, how and where they would love doing it.
I created my own circumstances once before too, about 17 years ago, when I started doing readings, as well as healing and aromatherapy. Initially, I worked from an office building where an ex-boyfriend and I ran a herbal shop on the beautiful coastline of Kwazulu Natal in South Africa. My dream was to do aromatherapy whilst looking out at the ocean, watching the dolphins play when they came to visit. At one point I was in the process of splitting up with that boyfriend, and we had agreed to find places of our own to work from and live.
A customer came into our shop one day, and I mentioned to her that I was looking for a place. She said her parents, who had a beautiful apartment overlooking the ocean, were moving to the city to help with the family business, and I could rent there for a very reasonable fee. Was this just luck? In hindsight, I think my constant envisioning of looking through a window watching the dolphins created those synchronistic circumstances. And guess what? Every time a school of dolphins came to visit, I would watch them, whilst I listened to CDs with dolphin and whale sounds and doing aromatherapy and reflexology treatments.
The one thing that you have that nobody else has is you. Your voice, your mind, your story, your vision. So write and draw and build and play and dance and live as only you can ~ Neil Gaiman
I would define "being in my element" as when I am really connecting with something which is fundamental to my sense of purpose, identity and well-being. I am loving what I am doing and doing what I do best when my menagerie is around me.
I feel that only when we merge passion and aptitude do we have the potential for the greatest fulfillment and achievement. It can take knowing what you don't want, to know what you actually do want, and this knowledge arises from that depth of character and self-confidence which come with life experience.
Ask yourself: What gives me energy? What was I good at as a child and why didn't I continue doing it? What comes easily to me that is a struggle to others?
Become aware of certain times when you felt tapped into another realm. Some call this "being in their element," or zone. With this comes a sense of authenticity and freedom. We are unaware of time when we are in our element and there is a sense of tasks being effortless and imbued with accelerated creativity.
If we only realized that we have the potential for constant renewal at any age, we would know that opportunity still lies ahead for us.

About The Author: Shani

Shani is a qualified practitioner in Reiki, aromatherapy, reflexology, body spin, and animal telepathy who received psychic development training at the Arthur Findlay College of Psychic Research in England. A published writer, her articles and predictions have appeared in several respected magazines and on psychic websites, and she has read for many celebrities and even heads of state in Africa. Though she was born in London, Shani has traveled the globe and has studied the art of African Mysticism, bringing her unique flavor to those seeking her incredible talents. Get a reading with Shani at PsychicAccess.com.