Enhance Prosperity And Happiness With Citrine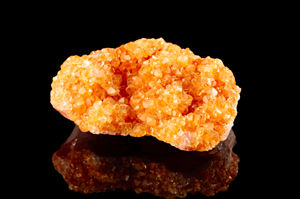 Citrine, meaning "Lemon" in French, is a quartz crystal. Natural Citrine is pale yellow, to golden, to orange-brown, and often referred to as the "Merchant Stone". Citrine is associated with the Sun, success and abundance. I call it my "prosperity enhancing aid".
Citrine can be found in Brazil, Argentina, Burma, Madagascar, Scotland, Spain, Russia and Namibia, and long ago amongst certain cultures, Citrine was carried for protection against evil thoughts, and even snake venom.
You can wear Citrine as jewelry, to assist with psychic awareness and psychic protection. This quartz is also said to expand our spirit of generosity. Citrine, along with Topaz is a birthstone for those born November month.
It is one of the two minerals on the planet which does not hold and accumulate negative energy, but dissipates and transmutes it, working out problems on both the physical and subtle levels ~ Melody, Love Is In The Earth
You can also keep some Citrine in your pocket or wallet, as a magnet to abundance. To help you develop a healthy attitude towards money, hold a piece of Citrine and affirm "I live in an abundant universe".
Allow yourself to gaze into the bright energy of Citrine as you focus on everything you are grateful for. Speak your intention out loud. Pour your intentions and good feelings into your crystal as you hold it. Apathy will abate and your self-confidence will soar. Your mind will open up to new potential, helping find ways to manifest your desires, and to capitalize on your talents as you harness the power of your crystal.
Handling Citrine and wearing some on our body is also said to assist digestion and stimulate the muscles, kidneys and liver, as well as help diabetes, urinary problems, poor circulation, anemia, asthma and allergies.
To sharpen your memory, as well as your intellect and concentration, Citrine is a must have quartz. It is particularly helpful during exam time for students, and in giving support and confidence for all manner of mental challenges.
The jeweler allows me to wear the sapphire blue lake on my finger, the emerald green leaves around my neck, and take the citrine sunset with me wherever I go.  Jewelry has become my daytime  link to nature in an office with no windows ~ Astrid Alauda
Public speakers often carry Citrine to strengthen their communication skills and it's a must have for the chairperson at any meeting, as well as a great helper at any group gathering.
Renowned for creating unity and assisting in family and business disputes, Citrine is helpful when one is involved in lawsuits or any disputes concerning money matters.
Worn at night, this quartz is renowned to enhance sleep, prevent nightmares, and to protect us. It is known to help with depression, and particularly good for those who tend to become depressed during overcast weather and long winter months, as well as those dealing with emotional trauma. After all, Citrine is the happy stone, full of Sun energy!
Ask your crystal to work with you with the intention that it does so with the highest good for everyone concerned.

About The Author: Shani

Shani is a qualified practitioner in Reiki, aromatherapy, reflexology, body spin, and animal telepathy who received psychic development training at the Arthur Findlay College of Psychic Research in England. A published writer, her articles and predictions have appeared in several respected magazines and on psychic websites, and she has read for many celebrities and even heads of state in Africa. Though she was born in London, Shani has traveled the globe and has studied the art of African Mysticism, bringing her unique flavor to those seeking her incredible talents. Get a reading with Shani at PsychicAccess.com.


One Response to Enhance Prosperity And Happiness With Citrine