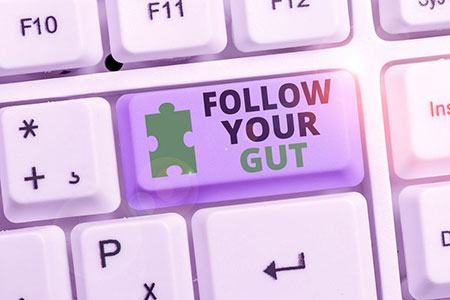 As a psychic advisor, I have noticed over the years that there is one issue that seems to come up in many psychic readings. It is an important matter that is seldom sufficiently addressed, namely trusting your own gut.
Now, don't get me wrong, a psychic reading is a wonderful tool to confirm your intuitions, or to get further clarification on your inner guidance and most any life situation. What I'm talking about is that 'gut feeling' most people either don't listen to, or fail to trust. A gut feeling is your physical body's expression of your instinct, in the form of a tangible feeling or physical response.
Yes, a psychic can help you to better see the bigger picture, and give you valuable guidance and options with regards the direction to go, but the first step should always be to trust your own gut.
How often have I heard a client complain, "I felt it in my gut, but I ignored it. I knew I should not do it, but I did it anyway, and now I regret it!" Yes, a gut feeling is the body's way of trying to tell you something important, but too often it is ignored by the logical brain, or the senses.
You have to be able to trust your inner being to make decisions, good or bad. Trusting yourself empowers you to take ownership and move in the direction of your life's purpose. Any decision is better than no decision at all. At least you are being proactive. Indecision and not trusting your instincts will only cause stagnation.