celebrity psychic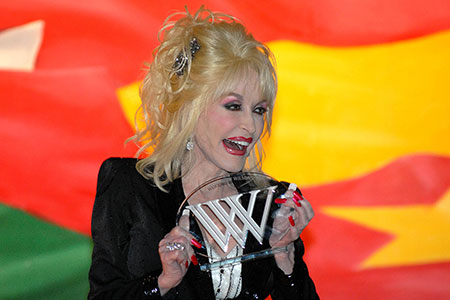 Dolly Parton is no doubt a national treasure and international superstar, always in our hearts, and lately also in the news headlines – and this inquisitive astrologer wanted to know why.
So, I took the liberty of looking into Ms Parton's Profection Year – an astrology technique I like to use for a voyeuristic peek into what's going on in the stars of our favorite stars.
To get started, I investigated her natal chart, which is basically the user manual or blueprint each of us is given at birth. Dolly was born with, as one might expect, some highly fortunate planetary positions in her chart.
She has her Venus and Moon in exalted signs, and her Jupiter – that larger-than-life reward-giver – in a very dignified position too!
Her birth chart predicts that she was going to go far in life. And quite easily, too. It even suggests that she might be put up on a pedestal of admiration by many. Hindsight certainly is 2020.
According to her chart, however, Dolly has earned every ounce of adulation she's received. Her Sun in Capricorn, and her Virgo Rising, make her a hard worker who's climbed her way to the top. She has an unstoppable genius, due to her Mercury in Aquarius, and a Mercury chart ruler that is planted firmly in her 6th house of tough grind and perseverance.
It's really no surprise that Mercury – a versatile, peculiar planet – is ruling her artistry and song writing prowess. And her unique voice (Mercury) is unlike any other (Aquarius).