Meet The Archangels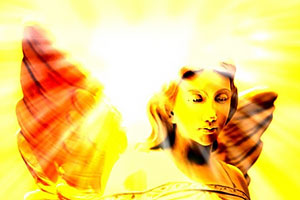 Divine messengers and emissaries, the Archangels are the foremost of the host of angels, and they help and guide us in our daily lives. Although they are established in many religious traditions, anyone may call upon them for assistance.
Most of the Archangels have names ending in "-el," which means "of, or in God." Though the spiritual traditions debate how many Archangels there are, the following are some of the most well-known to humanity.
Michael (Who is like God?) is the leader of the Archangels, often depicted as a warrior angel with a blazing sword. He can help in conquering our fears and anxieties, motivating us to do greater things, and seeking the truth. He's also a powerful ally in breaking our addictions.
An angel can illuminate the thought and mind of man by strengthening the power of vision ~ St Thomas Aquinas
Raphael (God heals us) comes from the Hebrew word meaning "healer." He is the one to call on in all matters of spiritual or physical health and healing, including cleansing ourselves of impurities from past lives. He's also the patron of traveling, both physical and spiritual journeys.
Gabriel (God is my strength), often depicted as female, is the messenger archangel. She can improve your spiritual vision and remove blockages, and give you the right words you need for any situation. As protector of families and women, she can also look after domestic matters.
Uriel (God's light) could be called the Archangel of Secret Knowledge, since he often gives wisdom and insight when we seek his assistance. Ask for his help in your spiritual studies, to understand the obscure, or in divination. Uriel is also the one to seek support from in the aftermath of natural disasters like hurricanes or tornadoes.
Chamuel (He who seeks God) is the Archangel of Divine Love. Call upon him for help in your relationships, whether romantic or otherwise. If you feel that no one loves you, or that you are depressed and lonely, he is there to assist you.
Jophiel (Beauty of God)is the patron of art and aesthetics, and can give us creative sparks in all our endeavors. He's also the angel you need if you want to reawaken the divine within yourself and learn to appreciate the little things in life.
Raguel (Friend of God) is the overseer of justice and arbiter for the angels themselves. He is there to protect the weak and unfairly treated, and he can also act as a divine mediator in all the conflicts of your life.
Every man may reign secure in his petty tyranny, and spread terror and desolation around him, until the trump of the Archangel shall excite different emotions in his soul ~ James Otis
Ariel (Lion of God) is one of the protectors of nature, who can connect us better to the world of animals and plants. He is also a healer like Raphael.
Azrael (He whom God helps), sometimes called the Archangel of Death, is there to comfort us in times of grief, and escorts souls to Heaven.
Camael (He who sees God) rules over war and divine mediation. Ask for his help in ending conflicts, or if you are part of a military or law enforcement family.
Haniel (Grace of God) can help us in all matters of natural healing, or when we are working with crystals or practicing Alchemy. He can also help us find the right words when we are speaking in public.
Jeremiel (Mercy of God) helps us review the balances of our lives, both while we are living and after we have crossed over. Ask for him to help you walk the right path. He can also make our clairvoyance and psychic abilities stronger.
Raziel (Secrets of God) is sometimes depicted as the Keeper of Divine Secrets. Call upon him to better understand the secrets of the universe and the divine wisdom which is given to us by God.

About The Author: Mystic Shelley

Mystic Shelley is a Psychic Medium. She has been reading for over 15 years helping and guiding people. She uses my 8 spirit Guides during her readings. She reads in the area of love, relationships, career, money and all matters of love. She will give you only honest and direct answers. Get a reading with Mystic Shelley now at PsychicAccess.com


This site uses Akismet to reduce spam. Learn how your comment data is processed.