star children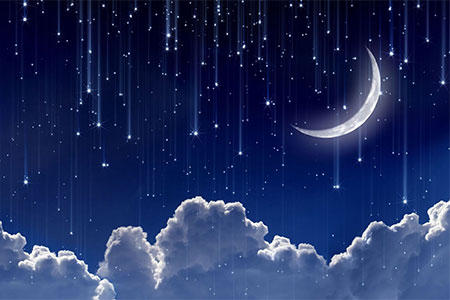 The Moon card in the Tarot reminds me of the Facebook relationship status: It's Complicated. It not only can bring up our deepest fears, but also speaks of the natural cycles of life. I am ever changing, reinventing myself, navigating by Moon time.
In the summertime and living in a big city, my mother's fear for me always used to be that I might "get into trouble," since I had "way too much time on my hands." So, every summer, before I was old enough to get my work permit to land a summer job, she would schedule summer classes just to keep me busy.
One particular summer, I was enrolled in a sewing class at a woman's house down the street from us. I was able to choose from several projects, and I immediately chose the two piece bathing suit! I was so proud of my work, and could not wait to show it off, but my mother was understandably cautious, because of my red hair, fair skin, and freckles. I suggested a compromise: "moon bathing."
Reluctantly she agreed, so I took out the lounge chair, flashlight, my small transistor radio, and some reading material. Wearing my two-piece bathing suit, I basked in the Moon's glow, while listening to music, reading, and even dancing. That's the summer when I fell in love with the Moon, and started on the path of following her cycles. And I have been forever changed.
For me, every New Moon brings her own magic and invites us to make wishes for that lunation. Each New Moon has her own personality and asks us to dwell in the possibilities. We also experience different New Moon energies according to the annual procession of the Zodiac. As you make your wishes for each lunation on the New Moon, the ideas below may inspire you in setting your own New Moon intentions for every month of the year.