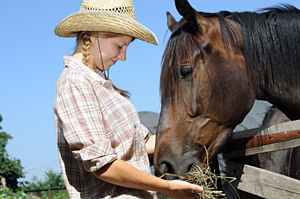 Native Americans first called horses "Medicine Dogs." There was no word at the time for these strange animals that seemed to heal with just energy. Today all horse aficionados know all too well how easily these animals heal.
As an equine therapist, I have seen so many children and adults with disabilities, who often appear very uncoordinated on land, look perfectly graceful when they are on the back of a horse. I have also observed terrified children becoming calm within just a few seconds of touching a horse. Horses really are strong animal medicine.
They say that every horse deserves the love of a young girl. I also think that every child deserves to have a horse as a friend. These giant animals have a sixth sense about children. It is like a switch is flipped when a horse and child meet. Horses run in herds, and therefore, being alone is terrifying to them. However, the majority of them will ignore their own fears when carrying a child. Read the rest of this entry »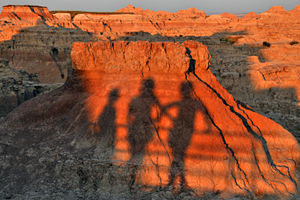 I communicate with the long-dead, noble spirits of the Native Americans, whose sacred spirits reside in the mountains of Arizona. If you have ever seen a silhouette of a face on a mountain side, or heard a whisper of ancient wisdom while deep in the rugged terrain of the high country, you may understand this.
It all started when I moved to Arizona many years ago. The area in which I live is a valley surrounded by mountains. I began to see silhouettes of the faces of Native American chiefs, warriors, princesses, healers, and wise men and women, on the mountain faces and mountain tops wherever I went. It was more than just a strange occurrence; it was a paranormal phenomenon that drew in all my senses. Read the rest of this entry »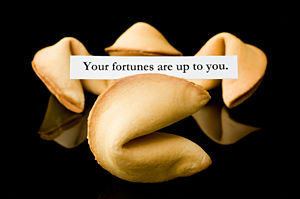 We must all seem like such a stuffy and spoiled bunch lounging about with our standard tools such Tarot cards, imported crystals, and rune stones. These are so mainstream that it is almost acceptable to have them in every household. If in fact if we would be given the opportunity to get to know our clients and work with them with other methods of divination, they would be able to get even more detailed readings from some of us in our off-hours.
In fact from time to time, I do employ these methods from day to day – if there is a message I can catch in the clouds for example, I will note it, or if the birds fly in a specific direction I will apply it sometimes to my client's readings if I have had time to reflect on them, and know them well enough. I will work on an 'entire reading' which not only will encompass my card and empathic readings but the occasional dream I have about them, and more importantly every day messages and symbols if they happen to signal something for the client. Read the rest of this entry »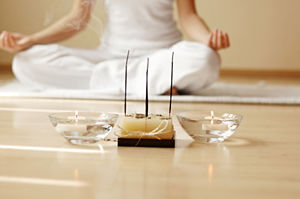 I used to get rather uptight about whether or not I was dedicating enough preparation time prior to seeing clients, both for psychic readings and energy healing sessions. That was until I visited a well-known elderly spiritualist, who lives in the countryside outside of Johannesburg, South Africa.
His words to me were, "You work with those on the other side, just like I do, but I feel you fret and think the preparation needs to be a lengthy process". He was right, I was anxious as to whether the prep time with my guides was ample before sessions began. "I just want you to 'set your intention' each morning before you begin," he concluded. Hearing him say that felt like a load off my shoulders. For me, keeping it simple was what I learned years ago in Alcoholics Anonymous, and of course it works. The main ingredient of successful preparation is after all the 'intention' to help others, and to open up to spirit working through you. Read the rest of this entry »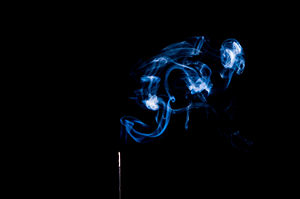 I was thirteen years old, and out walking with my father when he said, "I want to talk to you about something". I thought, "Oh no, is this going to be a talk about the birds and the bees!" And then he began, not a talk about the facts of life, but a little chat about what he called 'The Spooks'.
My dad spoke about his conversion from atheist to spiritualist some ten years earlier. He told me how my mother had taken a bet with him and he lost. Losing meant he would have to accompany her to a spiritualist church in London. He went to the spiritualist church one Sunday night when Joseph Benjamin, a well-known medium, was on the platform.
Even standing right at the back didn't stop this medium homing in on my father with a message from his recently deceased father. The message blew my dad away, especially when through Joseph Benjamin he was getting told off by his father about the way the tools he'd inherited were rusting away with neglect in the shed, amongst other things. Read the rest of this entry »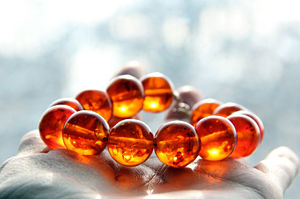 I wanted to write another blog about crystals or stones, but wasn't sure which of my favorites to select, so I asked my spirit team for inspiration. This time they worked through a canine channel!
Within minutes of putting my request to them, my Basenji dog entered into my work room and stared and stared at me until the penny dropped. Her name is Amber and she has the most exquisite Amber colored eyes. Like the stone that is ruled by the Sun, Amber has a sunny, forever happy disposition. So, Amber it was.
Amber may well be the oldest substance people have adorned themselves with through the ages. Pendants and beads made of Amber have been found mainly in and around graves in Northern Europe, dating as far back as 8000 B.C. Then, like now, it would have been known not just for its beauty, but for its healing, strengthening and good fortune qualities. Read the rest of this entry »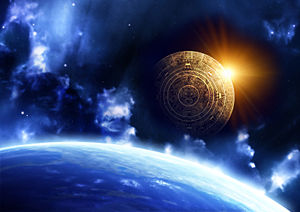 I recently gave a lecture entitled "The Prophecies and Astrology for 2012." In preparing for this lecture, I studied many prophecies for this phenomenal year and beyond, including those of the Mayan, Cherokee and Egyptian.  Also, with the help of several astrologer friends I studied the astrological chart for December 21, 2012.
I was surprised at the findings of this research. The astrological chart for December 21,2012 is not so catastrophic as we might think. Instead, it is a chart showing a T-square (conflicts), but this one is between Neptune or Chiron (our spiritual source or Healer), Venus (our connection to Earth and our Heart) and Jupiter (wisdom acquired through the expansion of the heart). This T-Square is also aspected by Pluto (transformation) and Uranus (chaos). Read the rest of this entry »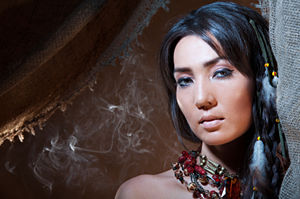 So often I receive comments and questions regarding the medicine bag that I wear around my neck. The most common enquiry being, "Are you sick?" Of course, being a medicine bag, the question is a natural one, but the medicine bag is so much more than just something you keep close to you if you are ill.
The traditional Native American medicine bag is a very personal and intense object. It contains items that are specific and emotionally charged for the owner. The meanings behind the objects contained in my medicine bag are private, thought-provoking and truly the most intimate of anything I own.
The medicine bag brings the wearer increased spirituality and protection. They are used in ceremonies, as well as every day meditations and for increased psychic awareness. So often, when my mind feels scattered and my concentration takes me away from the peace and serenity that I choose to maintain in my life, I will meditate while wearing one of my medicine bags. By concentrating on its contents, and the healing and cleansing properties of the sage and sweet grass it contains, I can immediately clear the negative thoughts and achieve the balance needed for a deep and meaningful meditative experience. Read the rest of this entry »