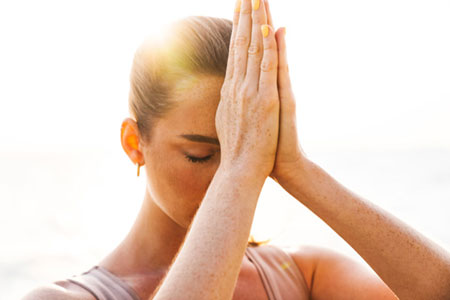 When life gets tough or something happens to upset me, whether it be big or small, I make it a point to become very quiet and mindful. I do this to get clear, so that I can see all sides of a situation, as well as stay open to learning any possible spiritual lessons that are being offered.
Typically, there's a strong emotion linked to what has occurred. If I can allow it to be there in a calm way, I can start to see the situation from a clearer perspective.
If the situation involves being hurt, for example, I take some time out – long enough to not hastily defend myself or problem-solve. Doing this creates an opening where the Divine can step in and take over.
I like to think of it as having a weight on me and imagining a group of cherub angels coming along to lift the heavy burden emotions I'm experiencing. They then take it from me and fly away. Though this is just a visualization, there is great relief at times in turning situations over to a higher power.
I have noticed, as I get older, that certain things that used to bother me so much, and would take weeks or months to get over, I now release in just a day, or even a couple of hours. This is because I no longer allow myself to be overwhelmed by the emotion in the moment.
I believe what helps to accomplish this is going beyond the difficult emotion, into a realm or a land less frequented. I refer to is as "taking it all the way home." What I mean by this is to examine what it is I am most afraid of.