The Ouija Board Is Not A Game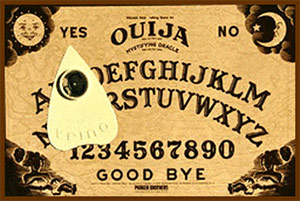 I often have clients and yoga students asking me my opinion on the Ouija board. Well, I have a hard time even writing the word, if that is for-shadowing of my more detailed view on this matter.
It is one thing to develop your intuition and tell your guides that you want to communicate with loved ones who have passed, and quite another to open yourself like a sponge and allow all energies in.
When you open yourself blindly to anything that wants to come in, you cannot control or filter what comes in. There is no protection. When you go through your guides, they will protect you and allow only positive vibrations and energies that you know in.
Never open the door to a lesser evil, for other and greater ones invariably slink in after it ~ Baltasar Gracián
I have worked with many clients who dabbled in this "game" and had some very negative entities and energies attach to them, and they had to ask me how to get rid of them.
Communicating with spirits from the other side is very sacred. It is not a game or a source of entertainment. It is a skill that must be developed with care.
Protect yourself by revering the process and meditating on only positive experiences and energies coming into your life, your home, and your own vibration!

About The Author: Satya

Satya lives in Northern California and is a natural Clairvoyant, Empath, Conduit, teacher, author, animal lover, healer, Reiki Master and an advanced yoga instructor. She has provided valuable psychic assistance to Hollywood stars, athletes, and everyone else in-between. A multi-layered Intuitive, with many unique gifts at her disposal, she can give you a doorway into the past as well as a gateway to a happier future. With her long distance energy work, she provides healing for people and animals too! She instantly spots karmic connections from past lives that directly affect current situations, helping clients to move through them quickly. For accurate solutions on just about any pressing problem, you can find Satya at PsychicAccess.com.


This site uses Akismet to reduce spam. Learn how your comment data is processed.