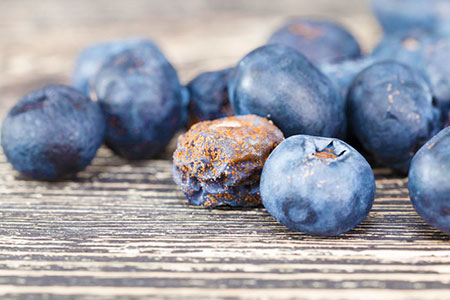 Positive energy spreads, and is infectious. Think about the positive, optimistic people in your life and how, whenever they walk into a room with their laughter, smiles and humor, they just raise the vibration of the entire room. Of course, excluding the really negative people in the room, who choose to remain impervious.
Yes, positive energy is contagious, but so too is negative energy. Just like the mildew on one bad blueberry, kept in a container with other blueberries, it spreads mildew and rot to all the other blueberries around it.
I remember walking into my dance studio one day, many years ago, and finding most of the moms, who had kids in my class, in the waiting room. I took this opportunity to show them the children's costumes for our upcoming dance recital. The moms were instantly in love with the outfits. Some even became sentimental and teary-eyed. They commented excitedly on all of the bright sequins, the colors and styles. They all talked enthusiastically about how much they loved it, and how truly beautiful these designs were.
Then one mom arrived late, while I was in the office. I could not be seen by the group of mothers, but I could hear them. The late-arriving mom noticed the costumes and immediately began to complain about every aspect of it. She was very critical and felt they were "cheap-looking." She even claimed that the moms had all been "ripped off" and that I over charged them.