Never Confide In The Emotionally Detached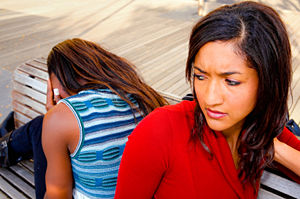 I had a client this morning who asked me a question that I have never been asked before. After my time with her, I thought about her question and asked myself the same question with reference to my own life.
Her question was pretty simple: Who can I confide in? Who can I trust? I took a look at certain people in her life and shared what I felt. I immediately felt that two specific people were not the kind of folks you would want to trust and confide in.
But I like to make sure everything is in agreement before I reveal this kind of information. So, I also asked her for her birth date, along with the dates for a few of the people she wasn't quite so sure about. Sure enough, it confirmed what I saw initially.
If you want others to be happy, practice compassion.  If you want to be happy, practice compassion ~ Dalai Lama
Astrological analysis confirmed that the two people I was most concerned about indeed had tendencies to gossip, didn't keep her secrets and did not bestow too much empathy on her at all. I also laid out some cards, consulted with spirit and pulled up her soul print (birth chart). All sources agreed with my initial assessment.
She was happier knowing this, as she had recently stopped sharing personal information with them because she suspected as much. It was now confirmed by my reading that they really didn't care. She learned the valuable life lesson that "less is more". It's better to have one good friend you can trust, than many fake friends.
After my time with her, I sat down and thought about my own life, and how I have opened up to a few people, as time allows in my life. I am very busy, but I still have time to talk to people once in a blue moon, and I will sometimes open up about stresses in my life. We all face challenges in life sometimes – even psychics! We all have to deal with family members at some point that may not be on the same frequency, or we may have friends or co-workers that do things that really keep them disconnected from the Divine spark, and so on.
I have opened up a few times in the past to people who I later realized were emotionally detached and did not care much. I wanted to believe that maybe they do care, because they are family, or maybe, because I am so emotionally and spiritually connected, I should not be afraid to allow my personal issues to be known. Why, it's good to get it out and ask for support, not true?
Just recently, I once again opened up to someone I thought had my best interests at heart, but there was never any response like: "I'm so sorry for what your going through", or "I'm so sorry you have to be around that." Nothing! Not a single word of empathy.  As I shared with this person, I would stop and 'listen' and there was nothing but 'dead air' on a spiritual level. I couldn't believe it! I took the phone away from my ear for a moment and looked at it, thinking maybe the phone was disconnected? But sure enough, our call was still connected.
We think too much and feel too little. More than machinery, we need humanity. More than cleverness, we need kindness and gentleness ~ Charlie Chaplin
To be fair, putting myself in that persons shoes, this person has been through a lot herself. Maybe there comes a time when a person has gone through so much loss and pain in their own life, that they become emotionally detached from the lives of others. Looking into it even deeper, I have continued to pray for this person and her emotional and spiritual well-being. I will never confide in this person again, but I will continue to pray for her to be able to have more empathy for others, and to accept things in her life instead of living in denial about certain loved ones.
I have always been a proactive person, I try and help those who are struggling and sometimes will look for support to do this, but there are people that just don't want to deal with it. They would rather turn a blind eye. I feel it is important to surround yourself with people that are open to sharing and caring, while staying far away from those who are emotionally detached.
Sure, we have to be around family sometimes, but you can keep your personal life and details about things going on with you away from these types of folks. If you need true support, think about those who really do care and are willing to say, "I'm so sorry!" or offer up something… anything by way of words of comfort. Friendship shouldn't never be one-sided.
I'm thankful for that client, as she helped me to recognize something that I hadn't taken the time to think about. She helped me realize that there are some people that are so emotionally detached that they just don't have the ability to connect in that way. Again we must pray for them, as that is not a way to go about life. We are all connected, and when someone does not care at all it is in fact a sign of disconnection from God and the Divine – the very thing that keeps us elevated and our souls progressive.

About The Author: Moon Goddess

Moon Goddess is a third generation empathic healer and seer. She started to give healing readings to people more than 20 years ago. She has always been interested and studied all things metaphysical from a young age. Being hypersensitive she can feel and see things before they happen. Utilizing the Tarot, and with the help of her Guides, she is a source of support for many people all over the world. After he passed over, her grandfather kept his promise and came back to say goodbye and gave her the most amazing experience. Moon knows there truly is a Heaven, and it is wonderful! Sharing her experience has helped many people after they have lost someone, or anyone experiencing some form of grief. Get a reading with Moon Goddess now at PsychicAccess.com.