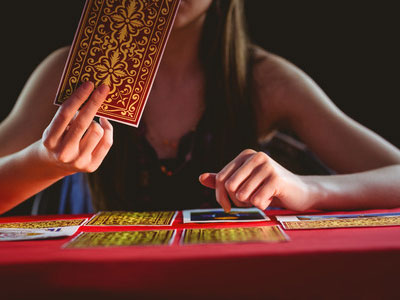 There are many ways to bring more power to your Tarot readings, whether you are just learning to read the cards or have been utilizing them as a divination tool for years. One way is to apply the three 'V's' to expand your reading skills, namely variety, validation and vision.
Variety
Seasoned and professional Tarot readers often own a number of Tarot decks, but usually gravitate towards one or two of their favorites most of the time. Employing a variety of decks will keep your readings fresh, and can also expand your predictions.
The images of the Tarot vary from deck to deck, which will offer you additional information to consider. Because you will be viewing the cards from a fresh perspective, you'll be able to 'see' more. Read the rest of this entry »
There are 78 cards in a traditional Tarot deck. The first 22 are called the Major Arcana. The word 'arcana' comes from a Latin word arcanum, which means 'ancient secrets' or 'mysteries.'
The 22 Major Arcana cards, starting with The Fool and leading all the way to The World, are all archetypes that represent hidden knowledge that many centuries ago were privy to those who worked closely with spirit.
When we consult a Tarot deck, the Major Arcana cards take us on a journey into another world, accessing ancient truths and divine law.  In psychic Tarot readings the Major Arcana cards can describe attributes of people and their character traits, but most often represent the spiritual lessons we go through in life. Read the rest of this entry »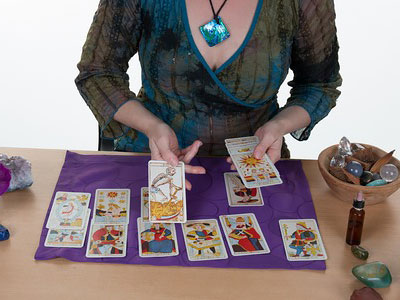 Mysterious, symbolic and highly energetic, the Tarot is a high vibrational tool helping us discover the deeper meaning behind the events of our lives. It can offer guidance around situations in which we may feel lost or confused. And it can serve as a bridge between how we perceive the 'normal' reality, and how the influence of Spirit is working in our lives.
As every Tarot reader's gifts are different, as unique as is every individual, a reader comes to develop their own style accordingly. But the Tarot itself also has its own energy – a high vibration frequency which Spirit can use to send us messages, encouragement, and guidance.
In my own Tarot readings, I find that Spirit most often seeks to illuminate areas in which changes may be needed in order to bring about the most beneficial outcome. This can be anything from the need to shift a perspective, the need to let go, or the need to accept things as they are. Read the rest of this entry »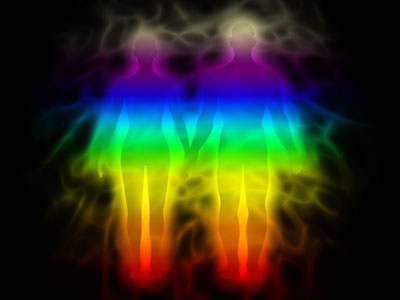 I recently came across a photograph of myself which was taken using an aura imaging camera. The aura camera is a bio-feedback imaging system which translates a person's energy measured from electromagnetic impulses of the hands into an individual pattern and personal colors which represent the aura.
The pattern of vibrant colors is overlaid onto an instant photograph of the person, to give a visual impression of what an aura would look like to psychics and mediums who are able to see auras.
An aura photograph gives us information about the physical, emotional, mental and spiritual balance of a person at the time it is taken, and can therefore be used as a basis for further analysis of an individual's potential.
The photograph of my aura I recently found is 17 years old, and was taken at a psychic fayre in London. In hindsight, that photograph of my aura was very relevant to what was going on in my life at that time, and really accurate. Read the rest of this entry »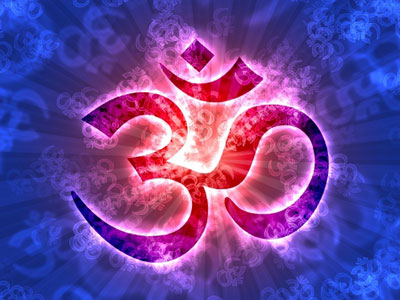 This morning, I ran into one of my friends in our little Spanish town, and we decided to grab a coffee and catch up. I was delighted at how she took an interest in my Om/Aum pendant. She commented on how I seemed to treat my pendant as something rather sacred, and with respect – an interesting observation! She loved the flow of the shapes, and asked if the pendant had any specific meaning.
I had to remove the pendant and study it closely to try and remember what I was taught years ago, in order to give her a brief description to the best of my ability. One by one I tried to connect with each swirl in the design and was surprised that I had remembered quite a lot of what my mentor had taught me. It was a long time ago, when we used the Om/Aum chant in our meditation sessions.
With my pendant on the table I began to explain the meaning of the dot at the top of the symbol, and recalled that this related to the silence after chanting Om/Aum. It represents the Enlightened Self, and is known as the transcendental state of Turiya. Read the rest of this entry »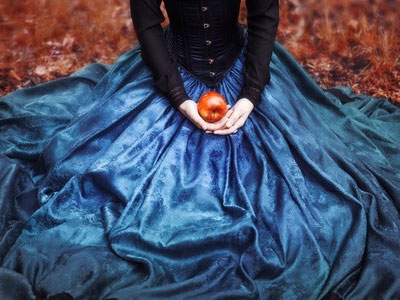 Pain is a door. It can be used as a tool to help you free yourself from pain and oppression that is stored deeply in your subconscious mind from your childhood and past experiences. The misconception is that we are to try to do everything we can to get out of feeling the pain. On the contrary, if we embrace our pain with the intention of looking at it, we can see our ego self.
The pain that has been stored for a long while, often causes the actions, reactions and trouble we find ourselves in. Pain helps make you alert if you are willing to look at it this way, if you will embrace it as a teacher. But, we usually want what we want and that usually translates into pain avoidance, which makes pain go away, only to come back another day. And the pain will continue to come back another day, until you are ready to use it as a tool to set yourself free. Read the rest of this entry »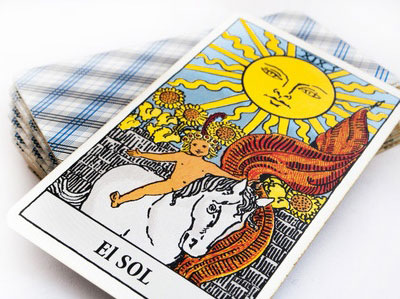 One of my favorite tools to work with for divination and self-exploration is the Tarot. The Tarot is my closest friend, and always by my side during readings.
You know how sometimes in life you get a feeling about something, but you aren't quite able to put it into words?  Well, that's how the Tarot assists me when I read for people. It helps me bridge the everyday life with the esoteric, and translate psychic messages in a practical way.
Sometimes it is as simple as the actual picture on the card having a single element that pops up for me, screaming to be noticed. Read the rest of this entry »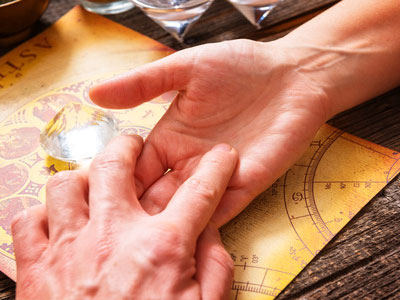 Palmistry, chiromancy, or palm reading, is one of the oldest methods of foretelling the past, present and future, by reading the lines of the hand. It is a form of divination practised all over the world. The earliest recorded evidence of this divination technique has been found in Asia, from where it spread to the rest of the world.
Each person has unique lines and shape of hand. Thus the use of fingerprinting in identifying individuals. In palmistry, the lines and shape of the hands indicate a person's character, marriage, how many children they will have, as well as the foreboding of positive and negative life events. Read the rest of this entry »