symbolism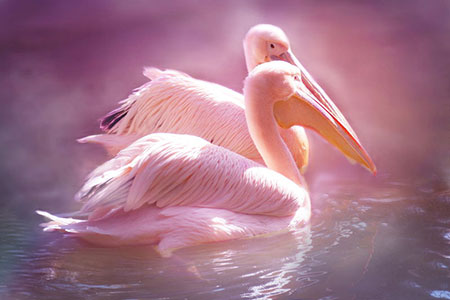 When a bird flies directly onto your path, or you see images or photos of the same bird repeatedly, within a relatively short space of time, this is often a spiritual sign that the energy of this bird is calling or guiding you.
I live on the coast and I am lucky to be able to watch various seabirds, and encounter other birds drawn to the local water ways. The pelican is one bird that has specifically caught my attention. The day I was inspired to paint this amazing bird, he literally strutted down the hallway of my home!
Even to this day, pelican continues to literally soar into my experience whenever I need to draw on his wisdom. Even though they seem large and clumsy, there is something gentle and caring about their nature. If pelican has waddled or soared onto your path, let his wisdom and symbolism guide your way.
I started building my connection with the pelican's energy by observing and sketching the local birds. Through the process I found a sense of awe for the pelican's beauty, which was a shift in my perception, as I had never before considered them to be very attractive birds.
I also noticed they followed a set routine, and similar flight paths, depending on the weather. It inspired me to become more aware of my own patterns and habits. At this time my work schedule had become somewhat unbalanced and dysfunctional, without me being aware of the impact. Pelican taught me that it is vital for my self-care to ensure that I work within a routine and structure that better supports my creative outlets and energy levels.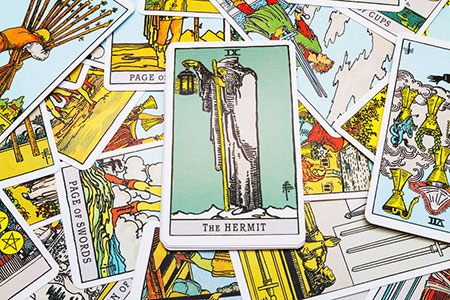 During my morning meditation, I became very aware of the isolation many people are currently experiencing, from having to self-quarantine or shelter in place.
Some are trapped in close quarters with family members, whom they don't get along with, while others are solitary and feeling very alone. Whatever the circumstances, this is not easy for any of us, day after day, while grim news keeps coming in from the outside world.
In the Tarot there is a card, The Hermit, depicting an old, wise man who has chosen to retreat and isolate himself from the rest of the world. The card symbolizes spiritual isolation and social distancing, in order to seek wisdom and understanding within; to confront one's inner demons, such as addictions, dependencies, habits or patterns; as well as learning to not rely on others, but to form one's own opinions.
The Hermit card teaches us to find an inner solace and strength, a light within. There is much that we can learn from his wisdom. In normal life, we get so caught up in the mundane routines of everyday life, that we seldom pay attention to our inner being. We also spend so much time texting and scrolling through social media, that we get caught up in other's opinions, attitudes and experiences, that we lose touch with our inner compass.
One of my Tarot mentors described The Hermit card as, "Stop the world, I want to get off." It certainly seems in many ways that our world has been stopped in its tracks (but the planet itself has not stopped spinning). Many have nowhere to turn at this point, but inward. This may be a blessing in disguise in many ways.