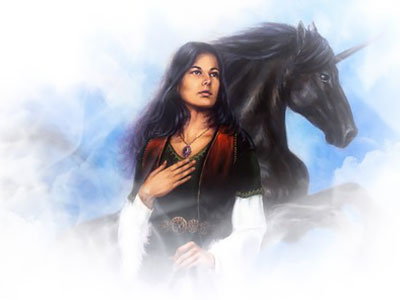 The Isle of Avalon is a mythical place of healing, psychic learning, crafting, and the life and times of King Arthur. Figures such as Morgan Le Fay, King Arthur and Merlin the Magician are just a few legendary names associated with this Holy Isle. Though no longer here in the physical world, Avalon is still accessible through the inner worlds by way of  meditation or immrama, an Irish-Welsh word meaning 'spiritual journey on the astral plane.'
Avalon was known as training ground for priestesses who dedicated their life to spirituality, and to the Great Mother Goddess. These women trained in the arts of clairvoyance, herbalism, weaving and devotion to the Divine feminine. Read the rest of this entry »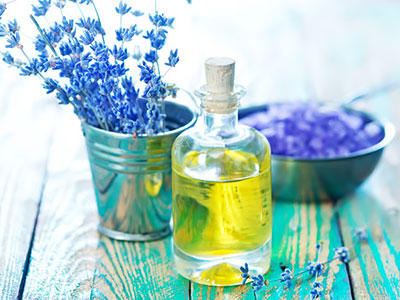 I love lavender. It is the one herb and essential oil that most people love and it has many benefits, including helping you relax and sleep better. It is one of the few oils that can be used on babies and is well-tolerated by most people. Besides smelling amazing, the plant also looks fabulous!
Essential oils are the healing properties found in plants and can be very therapeutic. Essential oils are an easy way to get the healing properties of herbs into your life and they are less messy. Lavender is relatively inexpensive and readily available at most pharmacies and health food stores.
Please check with your health practitioner before using any essential oils or herbs, especially if you are not well, or taking medication. Never use these products if you are pregnant or nursing. Read the rest of this entry »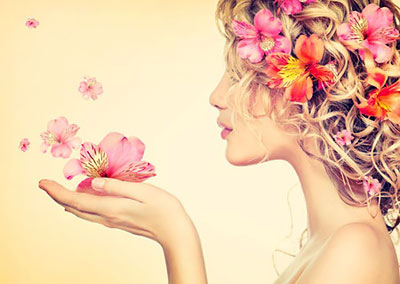 If you were to enter my garden in England, one of the first things your eyes may be drawn to is a gorgeous hanging basket full of purple petunias. I put it there for several reasons, and not just to gaze upon its beauty. No, it hangs where it hangs because of how it makes me feel.
Flowers are metaphysically powerful and can assist you in obtaining emotional and spiritual well-being. My purple petunias make me feel motivated and brimming with wellness. Okay, this may seem like a bold statement, but flowers truly are magical in that they can help enhance your productivity, overall happiness, soothe any sensitivity in your life and help to motivate you at the same time. And yes, they can do this for you by just looking at them. Read the rest of this entry »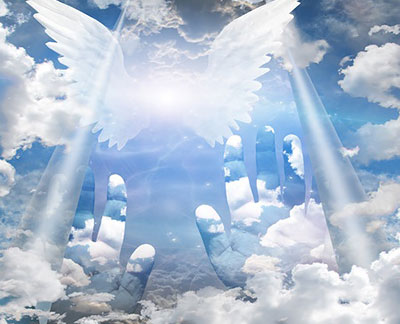 This morning a few from my group gathered to sit in the blessed Current Room together. I was thrilled to be motioned into the second room for the more advanced mediums – it is quite an honor. Heather Cumming was quite lovely taking us through a beautiful blessing and healing meditation channeled by the Casa Entities.
I brought all the names of the people on my healing list, as well as all the photos of those who registered for distance healing and who wanted to be on herbs. I prayed over everyone for four solid hours, while sitting there in Current.
I could hear the shuffling of feet as the lines came through to pass before Medium João. It was an honor and a privilege to pray for them and to hold the space of love and light where healing is complete. Read the rest of this entry »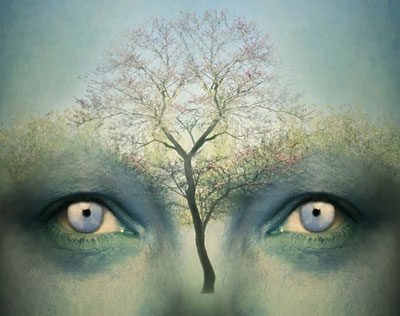 Throughout the millennia, the worship of animals has only been superseded by the worship of plants and minerals. In 1893, Gloria Mundi said that "all animals, trees, herbs, stones, metals and minerals grow to attain their perfection, without necessarily being touched by any human hand." This pristine state was exemplified in its most nascent state in its form seeds.
Apart from the agricultural uses, seeds were used as a currency, not only for food, but also as a form of diplomacy, learning and trade between warring and emerging cultures. Many new foods and cultures and religions emerged through the exchange of foods and cuisine, but not only that, to be delighted over and understood and worshipped – the most delightful maker of bonds. Read the rest of this entry »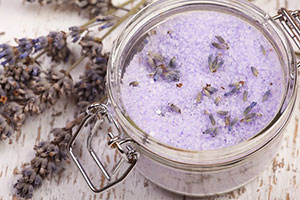 If you're looking for natural, organic ingredients to purify, cleanse and detoxify yourself and your space, there's no better choice than lavender and sea salt – two ingredients that are relatively inexpensive and easily found. You can even make potpourri or enjoy a relaxing bath with homemade salts without breaking the bank.
Depending on your preference, and its intended use, you may wish to obtain your lavender in crushed or essential oil form. Either can be found at an esoteric or herbal shop. In crushed (flower) form, lavender is well-known for its aromatic quality and can be mixed with another floral scent if preferred. Lavender is also famous for its autoimmune properties and ability to stimulate mental clarity, including psychic ability. Read the rest of this entry »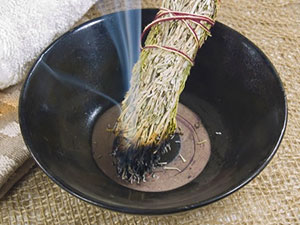 There are many effective ways to purify ourselves of old baggage or toxins in our lives. A great place to start is a very ancient art popular among indigenous peoples known as "smudging." This refers to the burning of sacred or blessed herbs, or grasses to cleanse yourself and your space.
If you are just beginning try burning sage, one of the most popular and fragrant herbs. As you become more adept, you may want to customize your herbal blend. Bundles may be purchased at an esoteric store, or a Native American or natural market, and burned in a vessel of your choice.
Before you start, make sure there are no fire hazards and open a window or two for ventilation. When you light your sage stick, make sure you are only using the leaves and not the other parts. Read the rest of this entry »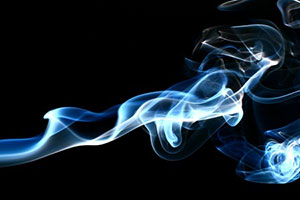 "The secret to smudging is in the smoke." These were the words of my mentor when I undertook my Ukuthwasa as a shaman initiate many years ago in Southern Africa. I have also come to know that the true intention behind any smudging ceremony is a very significant part of its success.
An initial part of my rigorous training as a Sangoma, or traditional healer, was a self-cleansing ritual using Mphepo, made up of herbs indigenous to Southern Africa.
"Smudging," simply put, is the burning of certain herbs to create a cleansing smoke bath. The smoke is used to cleanse areas used for rituals and ceremonies, as well as any tools or objects used for such cleansing, as well as to cleanse people. Read the rest of this entry »