The Secret Wisdom Of A Dream Journal – Part 1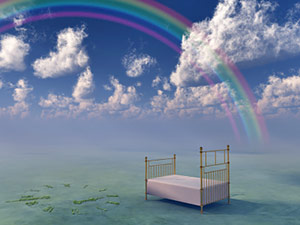 This very well may be the most important blog I have ever written. I can say it with certainty; it is the closest to my heart. Please get yourself a notebook or make your own dream journal, and keep it by your bedside.
When my grandfather was in this physical realm he spoke several times with me about the afterlife and how he intended to make contact with me after his passing, if there was any way for him to do it. He kept his promise.
He is one of the few people that I could talk with about anything related to psychic abilities, mediumship and paranormal phenomena. I think he was so open-minded because he was a true believer. He firmly believed that the soul exists, and that life lives on after death, just in a different form. He shared with me many times in great depth how he has seen his body from above as he floated during out-of-body experiences, and many other astral traveling experiences.
Dreams come true. Without that possibility, nature would not incite us to have them ~ John Updike
He has been in the spiritual realm now for over ten years, and since his passing I've been very blessed to have had many dreams where I've connected with my grandfather. He has also come to me in several visions.
It is my wish to pay forward on the doors and windows my grandfather has opened for me by sharing some of my knowledge and experiences with dreams, as well as the importance of recording them in a dream journal. I have personally benefited a lot from dream journaling. I want to show how you too may benefit, not only emotionally and spiritually, but also physically.
This past year I've been having my grandfather confirm some things I felt very strongly about and have always felt were true. I will list several below. I will, however, go into detail about each one in the next blog and will share some of my own personal dreams. In the next blogs I will also share tools you can use to help you remember your dreams and ways you can use the information to help you on an emotional, spiritual and physical level.
Here are a few of the confirmations I received from my grandfather who is also one of my spirit guides:
1. Keeping a dream journal is very important. They do warn us of things that will come to pass. We are often warned about future events in our dreams, as we are constantly creating our future through what we think about.
2. We receive health information in our dreams.
3. Our soul leaves our body when we sleep.
I have dreamt in my life, dreams that have stayed with me ever after, and changed my ideas; they have gone through and through me, like wine through water, and altered the colour of my mind ~ Emily Bronte
4. We do travel to other worlds and universes when we dream.
5. We communicate with loved ones in our dreams that have transitioned from the physical to the spiritual.
6. You can view past lives in your dreams.
7. We also communicate with those in this life and past lives when we dream. We communicate with those that are still alive because they may be out of touch with us, due to work or any circumstances.
8. Diet plays a huge role in the quality of our dreams.
9. We can access any information we need, while in the dream state.
One of the things I know I am meant to do in this life is to share with people the importance of recording dreams. I'm also to help people to develop their psychic abilities through their dreams, and share tools to help them in doing so. I am looking forward to sharing this information in the next blog. Stay tuned!

About The Author: Moon Goddess

Moon Goddess is a third generation empathic healer and seer. She started to give healing readings to people more than 20 years ago. She has always been interested and studied all things metaphysical from a young age. Being hypersensitive she can feel and see things before they happen. Utilizing the Tarot, and with the help of her Guides, she is a source of support for many people all over the world. After he passed over, her grandfather kept his promise and came back to say goodbye and gave her the most amazing experience. Moon knows there truly is a Heaven, and it is wonderful! Sharing her experience has helped many people after they have lost someone, or anyone experiencing some form of grief. Get a reading with Moon Goddess now at PsychicAccess.com.