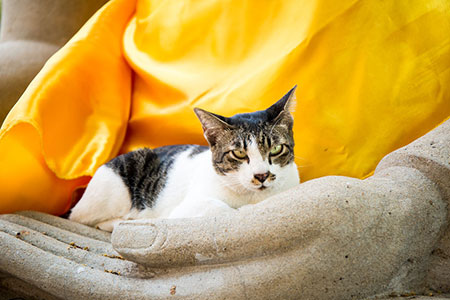 Our cats, dogs and all the other wonderful animals we call our pets are like tiny buddhas. We receive wisdom from them in so many ways. They never use words to convey anything, only feeling. If we are in-tune with them, and watch their behavior, we get a sense of how they are feeling.
Venturing into the Akashic record, to read for my clients, I have come to understand that much of our karma is based on how we not only treat ourselves and other humans, but also our fur friends and every other living being on this planet.
And in my experience, karma seems to bear an especially heavy weight when it comes to the animals. To my knowledge, those who abuse and mistreat animals will pay a severe price for it in their spiritual growth and soul evolution. In fact, many people return in a next life as the very animal they hurt, and will experience the same, or worse infliction they put upon that animal.
Animals are creatures of God, messengers of Love. They are here to teach us how to co-exist with each other with compassion and unconditional love. They show us how to share space, heal with touch and communicate telepathically. Some cat owners, for example, will tell you how their cats begin to circle around them and purr whenever they are meditating, or engaging in other forms of spiritual practice, which heightens their energy frequency and spiritual awareness.